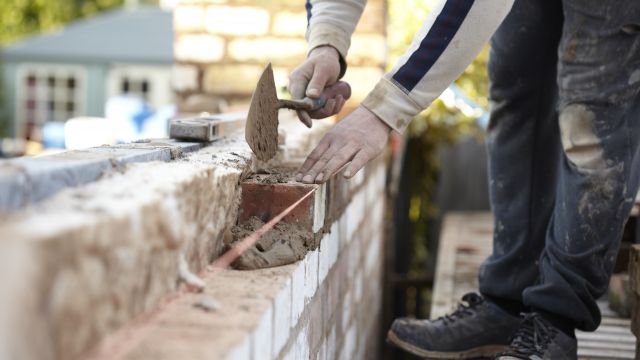 July 6, 2021 8:00 AM CDT
Disciplines of the MCAA Certification Program
"Quality is not an act, it is a habit." - Aristotle
Hiring a professional is usually the best course of action in many everyday situations, especially when approaching a project or task that's unfamiliar. For example, if a person breaks their arm, it would be best to visit a medical professional, like a doctor, rather than to set it themselves. Similarly, when homeowners, businesses, or municipalities are faced with a masonry project and lack the knowledge and experience to DIY the best approach would be to hire a mason contractor for the work instead.
Medical professionals, however, attend medical schools and are required to pass standardized tests to maintain their license to practice. Masonry professionals, many qualified by years of experience and education, do not have the same standard certification to demonstrate their aptitude and quality of their work- until now. In recent years, the Mason Contractors Association of America (MCAA) has developed and launched the national Masonry Certification program to provide clients with an objective way to sort through available mason contractors in their area and choose the ones firmly committed to quality and premium service.
Why Choose Masonry Certification?
For those looking to hire a mason contractor today, the typical process revolves around obtaining, comparing, and ultimately selecting the best bid for the project. Unfortunately, this process places a majority of the decision on the cost of service and materials rather than the quality of the work itself. A mason contractor that displays Masonry Certification is providing potential customers with an object tool of measurement that provides a leg up on the competition- and as such, is also a potentially valuable marketing tool.
The enrollment process is relatively simple, but requires a little bit of planning. While Masonry Certification covers the entire mason contracting company, certification classes, credits, and exams will need to be attended and successfully completed by a single primary individual. Anyone intimately familiar with day-to-day operations including senior management would be an ideal selection for primary individual, as it is an important choice- should the primary leave the company before the certification process is complete, the process will have to start over with a new individual. There are also fees associated with registration: $600.00 for members or $850.00 for non-members, which includes tracking services and exam fee (up to three exams), as well as an additional renewal fee of $500.00 every three years (for members and non-members alike.)
Credit Hours and Requirements
After registration is completed and primary individual selected, access will be granted to the certification database, which is where program progress will be tracked and resources made available.
The complete Masonry Certification program is 75.00 total hours of continuing education, which is broken down into the following disciples and hours requirements:
Quality Assurance Best Practices (16.00)

Codes and Standards (10.00)*

Ethics and Business Practices (10.00)

Safety (10.00)**

Bidding Practices (5.00)

Masonry Products (5.00)
* One of these courses must be at least four hours in length and specifically address Codes and Standards.
** A comprehensive safety course is required, such as the OSHA 10-hour Training Course.
Class credits are simple: each credit hour is equivalent to one hour of course time, and thirty-minute courses are valued at one half-credit. Outsides of these requirements, the remaining 19.00 credits can be gained through any combination of the above six disciplines. In order to make Masonry Certification accessible and attainable, any classes related to company operations are eligible for credit and can be self-reported with detailed documentation.
There is an additional component to gaining certification, which is that all of the mason contracting company supervisors also need to earn 15.00 credits in any discipline to sit for their exam. For these purposes, supervisors are defined as anyone managing a team in the field, including foremen or project managers. These supervisors must be listed as company employees to qualify.
Exam & Certification
The primary and supervisors will sit for the exam Masonry Certification after all credits are completed, and the exam requires an 80% to pass. It consists of 100 questions, all of which will fall within the six disciples outlined above, and can be retaken if not passed on the first attempt. In order to prepare participants for the exam, a breakdown of test questions, as well as an extensive list of digital resources, are available for all enrolled in the program. These resources include Building Code Requirements for Masonry Structures, Standard Practice for Bracing Masonry Walls Under Construction, Masonry Estimating, and more.
After the exam is successfully completed and Masonry Certification is complete, mason contracting companies can immediately display their certification and incorporate it into marketing or other promotional materials. Certification is good for three years, after which time recertification fees are due. In addition to recertification fees, primary individuals must complete 45.00 credit hours of continuing technical education in one of the six disciplines, and all listed supervisors must complete a total of 15.00 credit hours in the same period. Recertification does not require the exam be retaken, and certification is renewed immediately for an additional three years once the requirements are fulfilled.
Get Certified Today!
The MCAA Masonry Certification program is ongoing and runs throughout the year, ensuring there are no waiting periods for interested mason contracting companies looking to obtain their own. While the overall cost is lower to MCAA members, the program is also open to all masonry professionals and includes companies of any size. For a complete overview of how Masonry Certification can benefit a growing mason contracting company, be sure to visit the Masonry Certification section of the MCAA website at masoncontractors.org/certification. Here, interested parties can view available resources, learn more about the program, and download a registration form to begin the enrollment process. With so much to gain and so little to lose, every mason contractor should consider standing out from the crowd with MCAA Masonry Certification of their own!
---
About the Author
Related Articles