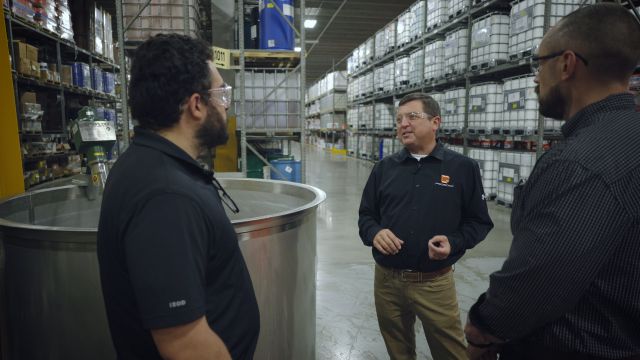 December 13, 2021 8:00 AM CST
Get To Know MCAA Strategic Partner: PROSOCO
The Mason Contractors Association of America has been representing masonry experts since 1950, facilitated since its founding by reaching out to and partnering with strong industry leaders. The association has partnerships with household industry giants and is always on the lookout to add new blood. To properly welcome the newest affiliate to the team, MCAA Editorial Director Dan Kamys took a trip to Lawrence, Kansas, visiting PROSOCO headquarters and chatting with Clean & Protect Group Leader Jake Boyer and his team. Taking him through who they are and what they do, Jake graciously provided an informative first look into MCAA's newest Strategic Partner in PROSOCO! 
Happening upon an important portrait in a prominent spot at the start of the tour, Jake Boyer pointed it out as being that of his great-grandfather and company founder, A.J. Boyer. Himself representing an impressive fourth generation in a family-owned business that started out as the Process Solvent Company more than 82 years ago, Jake shared the unique story behind the successful company's rise in the masonry industry. Back in 1939 during the waning years of the Great Depression, the formerly used car salesman and future PROSOCO founder would exchange a used vehicle for a supposedly patented formulation able to clean lime deposits out of car radiators. 
Despite the patent turning out to be bogus, A.J. would make lemonade out of a lemon after developing a radiator block cleaner based on minor tweaks to the formula as it seemed itself workable. After realizing that the formula showed much greater promise when dealing with sensitive brickwork rather than used car radiators, A.J. decided to refocus his efforts on masonry equipment. His new take on the cleaner, the resulting Sure Klean No. 1 formulation, would go on to lead to an entire line of products that now includes sealers, cleaners, and restoration treatment solutions for masonry professionals to take advantage of. 
Following that initial point of innovation, the Boyer family would continue to develop even more masonry-focused products and approaches over the next eight decades while still keeping PROSOCO a proud family-owned business and adapting to current job site needs. In the essence of continuing that evolutionary dynamic, Jake makes sure all team members are considered family and welcomed. He would next introduce the PROSOCO lab facilities and its team.
PROSOCO employs nine scientists with various testing facilities available on-site, giving the team the ability to monitor both developing and finished products easily while employing the use of standardized testing approaches via agencies like ASTM when appropriate. The lab's Director of Research and Development, Tom Stalnaker, did emphasize, however, that the team needs to be creative and original when seeking the right approach to match field conditions, echoing the innovative spirit the company's founding was born from. 
To that end, in addition to handling all new product development in-house, they also deal with everything from quality assurance to specific project testing directly too. Tom would go on to list a plethora of equipment and scenarios the team has at their disposal, identifying various tools like spectrophotometers, gloss meters, and stereo microscopes in order to test everything from window samples taken out of the Empire State Building to portions of brick originating from a 1,000-year-old castle in Ireland! 
Ultimately, the team's first priority is trying to make whatever test best matches conditions masonry professionals face on a reasonable basis. The PROSOCO team of scientists further explains that it is an uncommon undertaking for most laboratories to be so robust with their spectrum of examination but that it's necessary for the changing demands of the masonry industry. "In the real world, our contractors are up against different things every day," adds Jake as he made clear that PROSOCO aims to solve for as many of these scenarios as possible utilizing such rigorous early testing. "And if we haven't yet encountered it," Jake continued, "we're happy to make a formulation specifically for it." Summing up the commitment to such thorough examination at PROSOCO labs, Tom would share something that he and his team take to heart: "If you're not testing, you're guessing."
With such a wide array of products that PROSOCO puts out that all require testing of their own, the deeper commitment to the craft in masonry would naturally lead to expanding into areas more removed than the founder's vision back in 1939. To meet the demands of the field, different and effective solutions have come a long way from the days of the Process Solvent Company. The team provided an example by introducing the newest division in the long-running PROSOCO brand, the anchoring systems group. 
This division focuses on preventative protection and longevity of wall assemblies as a whole, not just the cleaning aspect of masonry anymore, but long-term structural investment solutions. A reflection of the company's constant evolution in keeping up with the masonry industry, the anchoring division has seen rapid growth over the last three years and has been hard at work developing different types of anchors for various wall set-ups. As Tom and Jake would point out, with so many approaches employed today, the contractors of MCAA need an equally wide net of answers.
What remains clear is that a bright future is on the horizon for collaboration with the MCAA and fellow partners. In its journey from the modest automotive cleaner through to masonry cleaning and protective treatments, and today into helping pioneer the field, PROSOCO has demonstrated a passion for finding solutions within a field constantly demanding new approaches and innovation. After getting to know a little more about that passion, MCAA is proud to welcome its newest Strategic Partner in its shared goal of advancing masonry forward! "We've been around for 82 years, we would like to be around for 82 more, at least," adds Jake as he thanks MCAA for their continued support of the field and its investment into further development.
---
About the Author
Related Articles