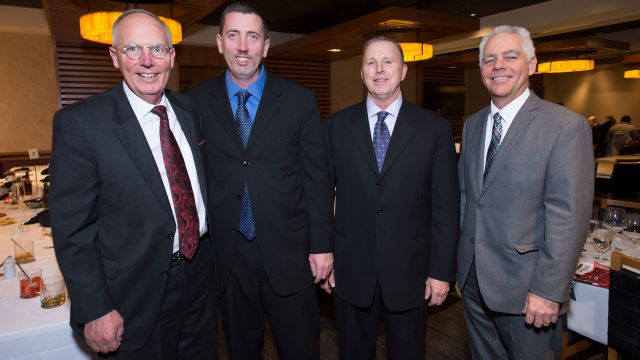 February 9, 2018 9:00 AM CST
MCAA Announces 2018-20 Board Members
Paul Odom elected Chairman of the MCAA
The Mason Contractors Association of America (MCAA) announced the election of officers to the MCAA Board during the MCAA Annual Meeting on January 25, 2018 during the MCAA Convention at the World of Concrete/World of Masonry in Las Vegas.

Paul started his masonry career in 1980 as a laborer for Lee Masonry, based out of Hamilton, Texas. He quickly advanced in the company, going through his apprenticeship and becoming a journeyman mason. He left the company in 1986 before officially starting P and S Masonry in 1987, alongside his wife, Susie, who is still active in the company. Their business started small, concentrating on military construction and has grown throughout the last 25 years to excel in school, university, commercial, and industrial construction.

Additionally, Paul has been active in promoting the masonry industry over the years. He was one of the founders of the Central Texas Masonry Contractors Association and has twice served as president of this association. He has been on the board of the Texas Masonry Contractors for several years, serving as vice president and president during that time. At the national level, he has been active with the MCAA serving on committees and the Executive Board for twenty years.

Serving as Vice Chairman is Paul Oldham, President and Co-owner of Ollier Masonry Inc. Paul attended the University of Evansville and earned his Bachelor's Degree in Engineering Management. Paul started his career in the construction industry as an assistant carpenter for a small construction company that was owned by an architect. Knowing Paul was pursuing an Engineering Degree, he brought Paul into the design office as a draftsman. Paul was able to experience the different phases of design and the interaction with clients and the development of their projects.

From here, Paul felt it was necessary to go back to the field and connect the dots between schooling, design and the reality of building a project. He went to work for a large general contractor and experienced the site management of a project, starting with the basic RFI process with subcontractors through the competition of a 100 million dollar plus project. Paul had the desire to get married and have a family and decided the life style of a large general contractor traveling the world wouldn't provide the home life he was after.

Paul went to work for a smaller general contractor/mason contractor in the Midwest. Here he was given the opportunity to work in the capacity of a General Contractor and a Specialty Contractor, this is where he was introduced to the masonry industry. He was also able to find and marry his best friend and build the family he was after.

Over the years he has experienced many different types and sizes of masonry projects. One of his highlights was the opportunity to manage the masonry contract for a Major League Baseball team.

Paul was taught by many that being involved in what you believe in is important and you have to give back. One way of doing this is to be involved in the organizations of your industry. Over the years he has been involved in the AGC, ABC, Indiana Masonry Contractors Association, Tri-State Masonry Association, Ohio Masonry Association and the Mason Contractors Association of America starting with serving on committees and then serving on the Executive Boards. He currently is on the Board of TMI in Cincinnati, Chairman of the OMA for the state of Ohio and Secretary for the MCAA. The relationships he has developed here are priceless and have provided the avenue to continue to learn.

Paul has been fortunate to experience working for an architect and engineer, developers, owners, general contractors and Ollier Masonry Inc. to provide him with perspectives from all sides of the construction process.

The Treasurer for the MCAA is Larry Vacala, founder of Restore Masonry LLC & Tyler Lane Construction Inc. Larry has over 45 years of construction experience. Prior to founding Restore Masonry LLC & Tyler Lane Construction Inc., he owned and operated a masonry restoration company that performed work on historical landmark buildings in the Northern suburbs of Chicago. "Transitioning large residential homes to commercial properties was easy. The commitment was to keep the same eye for detail and quality, just on a larger scale." His responsibilities include, involvement in day-to-day business decisions, overseeing all upper management personnel, managing all professional business relationships, marketing and providing a vision for future direction of the company.

A retired Evanston Fire Fighter with 20 years of service, Larry brought with him the 20 years of fire fighting and life safety skills he experienced to the forefront in running a safe company for all.

Larry has served in leadership roles for several construction industry organizations such as President of the Mason Contractors Association of Greater Chicago (MCAGC), Board Member of the Mid-American Regional Bargaining Association (MARBA), Executive Board Member of the Administrative District Council (ADC), Executive Board Member of the Illinois Masonry Advisory Council (IMAC), Board Member of IL ADC #1 MCAGC Labor-Management Cooperative Committee (LMCC), and voting member of ASTM International C-12 and C15. He is also a member of the American Sub-Contractors Association (ASA Chicago), the Chicago Building Congress (CBC), and the Fox Valley Contractors Association (FVC).

Larry also volunteers for and supports many charitable organizations. He serves as President of the Julia Vacala Foundation, established May 9, 2002 to honor the Vacala family's late mother. The Foundation works to continue her legacy and help those in need.

Joining the MCAA Board as Secretary is Dick Dentinger of B&D Associates, Inc. in St. Paul, Minn. Dick Dentinger and his brother Bill operate their masonry business specializing in institutional, municipal, and commercial masonry. Bill oversees field operations while Dick handles the administrative aspects of their business.

The Dentinger family has a long history in masonry. Dick's parents, Bill and Shirley Dentinger, built a highly respected masonry firm in Milwaukee. Bill Dentinger, Jr. served as MCAA Chairman in the 1980's and was inducted in the Masonry Hall of Fame following a career of service to the industry.

Having been taught that each of us is obligated to give back to the industry in which we choose to earn a living, Dick and his brother always make time for volunteering. In addition to serving the industry, these efforts provide personal and professional growth from working alongside talented leaders in our industry.

Throughout his career, Dick has been active with the Minnesota Concrete and Masonry Contractors Association from committees on up to president. He endured nearly two decades on the negotiations teams for the local union agreements, held various fringe fund trustee posts, is currently Secretary of the B.A.C. Local #1 Pension Fund, and served on the board of AGC - Minnesota.

He has been active on MCAA committees for 20 years including two separate terms as Membership Committee Chair, and a long run as Minnesota State Chair.

Dick grew up in Milwaukee and attended the University of Minnesota. He spent a few years selling advertising for a popular Minneapolis radio station. It was during this era that Dick achieved his most impressive success, when against all odds, he tap-danced his way into convincing his college crush to marry him. Thirty plus years later, Dick and Sheryl work in the same office and have two impressive and beautiful adult daughters, and dream of someday being one of those lucky MCAA couples who bring their adorable grandchildren to conventions.

The MCAA also elected nine Regional Vice Presidents to the board:

Region A: Joe Bonifate, Arch Masonry & Restoration; Pittsburgh
Region B: Gary Joyner, Joyner Masonry Works; Greenville, N.C.
Region C: John Jacob, J. Construction Company; Cincinnati
Region D: Lynn Vasquez, MAV Masonry, Inc.; Marissa, Ill.
Region E: Brian Grant, Grant Contracting Co., Inc.; Fenton, Mo.
Region F: Robert "Buddie" Barnes, Dee Brown, Inc.; Dallas
Region G: Glenn Hottmann, G & G Enterprises; Glendale, Ariz.
Region H: Dennis Withsosky, New Dimension Masonry, Inc.; San Diego
Region I: Jed Olafson, Johnston Construction Co., Inc.; Tacoma, Wash.
All officers serve for a period of two years. The officers began their two-year terms on January 25, 2018.
---
About the Author
The Mason Contractors Association of America (MCAA) is the national trade association representing mason contractors. The MCAA is committed to preserving and promoting the masonry industry by providing continuing education, advocating fair codes and standards, fostering a safe work environment, recruiting future manpower, and marketing the benefits of masonry materials.
Related Articles