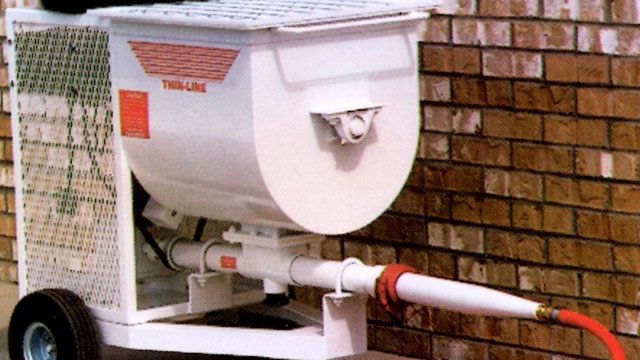 November 21, 2012 1:30 PM CST
Portable variable speed mortar pump
Product watch
By Masonry
The Thin Line III Mortar Pump was designed with the masonry, tile, restoration, stone and paver contractor in mind. The pump was designed to allow one man to cover 1,000 to 1,400 square feet in six hours, operating at variable speeds up to two gallons per minute. Slower speeds allow precision in delicate pointing applications, while higher speeds permit efficient grouting of large voids, door jams, etc.

The hopper holds four cubic feet of mortar and pumps 50 feet straight up. With the addition of a spray gun and compressor, the pump also can be used for spraying mortar and texture coating. It is three to five times faster than manual bagging and slicking, and does a neater job with less clean-up time, reducing job time and labor costs.

The pump is portable, with a lightweight compact design, and can be taken up on a scaffold or rolling stage with ease. The machine come with two nozzle tips (any size), two ¾-inch diameter hoses (25- or 50-foot length), and a 75-foot external on/off switch. It operates on 110 volts (or 220 volts if required - if required, must specify when ordering), and is made of long-lasting, heavy gauge steel construction.

Learn more at www.thinlinepump.com. Under new ownership.

Originally published in Masonry magazine.
---
About the Author
Masonry, the official publication of the Mason Contractors Association of America, covers every aspect of the mason contractor profession - equipment and techniques, building codes and standards, business planning, promoting your business, legal issues and more. Read or subscribe to Masonry magazine at www.masonrymagazine.com.
Related Articles