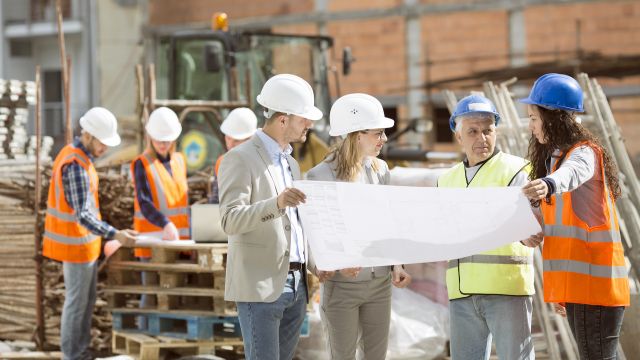 February 8, 2022 8:00 AM CST
What Comes Next: Transitioning to Company Ownership
By Steve Hansen
Owning your own company is a dream for many mason contractors. Some will get there by starting their own company, while others will work in the family business or for an employer and transition to company ownership. The transition to ownership is expected in the trades, and it carries great opportunity, along with plenty of challenges. 
Paul Cantarella, Jr. and Kent Bounds have entered the family contracting business and successfully run their businesses today. They offered firsthand insight into their experiences and the specific challenges everyone will face when transitioning to ownership.
First, Cantarella said that a family business is probably more challenging. "The old saying 'they don't want to give up their baby' rings true. It's very hard for someone to give up something that they have been doing for 30-plus years every day of their lives." 
In some cases, the challenge or conflict can be based on a father-son dynamic, but in others, generational differences will be present. Those can be managed. Cantarella said his father, from whom he took over, was part of "the great generation that put work ahead of everything else."  
"There were many days we didn't agree but that was just as much younger generation ideas vs. older generation thinking, rather than father vs. son."
Some situations, in contrast, don't matter, he added. "There are a lot of situations I look back at that my father and I fought over whose way we were going to do something. 80% of those things could have gone either way, and we still are where we are today. There are many ways to skin a cat." 
The flip side of that coin is on the same team, too, working towards the same goals. "Having someone in your corner like a coach or mentor to help you through the process can help make the transition smoother," Cantarella said. 
Bounds noted that roles have to change if the older generation is still working in some form. "It is a challenge because you're dealing with somebody that just used to walk into the room to call the shots. Now he has to go through me to make sure we correctly keep the line of leadership," he said.
Hiring a consultant to address this challenge might be money well spent and could spare you truckloads of conflict. "We had an outside third party come in to help us with our succession planning and help us with the process and go through what we needed to do to create a job description for each of us," Bounds noted. 
All companies evolve in response to the marketplace changing and as a way to try new ideas to keep everyone engaged. Apart from the transition, running the company day to day falls to you as the boss. That's going to be challenging for you, as well as for the rest of the staff. 
"For me, it was taking all the ideas I had put in my head growing up in the industry on how I wanted to run the business when it was my turn to lead," Cantarella said. "I had been making my list for years on how I wanted to do it. I knew I wanted to take all the good I learned from everyone and get rid of all the bad that I knew didn't work anymore," he added.
Getting to the point where you're a viable candidate for running the company is not automatic in a top company. Even in a family company, you have to earn it. Most people transitioning to ownership will be responsible for rising in the ranks as an employee rather than being handed a management position right from the start. Going above and beyond that job role will make the difference in getting the chance to advance.
"If you want to be part of ownership, you have to show initiative," Bounds said. "You can't just do your job but have to continue to ask for more. You just can't sit there and expect something to be given. You must have the initiative, go the extra mile, stay late, assemble job cost reports," he added.
In his case, as a full-time project manager, he didn't have time during the workday to devote himself to learning the business more broadly. "So I got in at seven, I'd leave at six. I put in the time. When I got to that point, I knew more about the company. I was able to show that I was willing to do what it took to get there," he noted.
In addition, he stressed the greater scope of responsibilities for the boss, even though he always tried to consider the entire business when he worked as a project manager. "The biggest challenge for me from being an employee to transitioning into ownership is looking at the bigger picture. It was just a mindset, and I was so connected to the world of project managing and field operations that it took a lot more of my time to look at accounting and estimating and look at the company as a whole."
Trusting the staff to do their jobs is the only way a large company can thrive, as there's just too much for one person to manage, and micromanaging employees does not engender their happiness. "I always wanted to stay involved in the day-to-day project management," Bounds said, "and you can't be a leader and a president of a company and an owner and still have your hands in everything, especially one of our size. The biggest challenge is letting go and trusting that you have good people underneath you who can do it and take care of the job."
Operational changes will be part of every transition, but it's best to pace yourself. Even though you're ambitious enough to embrace the challenge of taking over the company, most of the operations will remain for a while and be changed incrementally over time. 
"You have to be patient, especially with a successful company. I mean, things are in a certain order for a reason. If you're going into day one and making all these changes, you're probably not going to be right and not going to be successful," Bounds noted.
As a leader, it's also crucial to remember that the transition is occurring for the staff, too, and it's your responsibility to help them with it. They may be skeptical or resentful but insecure because they're invested in that company, and people generally dislike change. They may just not see your vision for the company, so changing more slowly and deliberately will often work more smoothly.
"From day one, if you go in and make wholesale changes, you're going to lose the faith of your people," Cantarella said. "Everyone else has been with this owner for a very long time and has a lot of loyalty to him. Patience is all it is. I had some loyalty from my people because they saw the process. But I've gained that loyalty more and more as the process went on."
As the new boss, you're overseeing the operation months ahead instead of looking at the week or the day. Knowing you're making gradual but real progress. Don't expect everything to change overnight, and stick to the course.
As with any other challenge that's worth the effort, Cantarella said, you just stay at it, and you'll come out on top. "Stay calm and stay focused, and don't give up. There are many days you feel defeated, but you keep your head high and one foot in front of the other."
---
About the Author
Related Articles