February 3, 2012 7:00 AM CST
Four inductees named to Masonry Hall of Fame
2012 Masonry Hall of Fame inductees included C. DeWitt Brown, Richard Felice, Jerry Painter and Glenn Sipe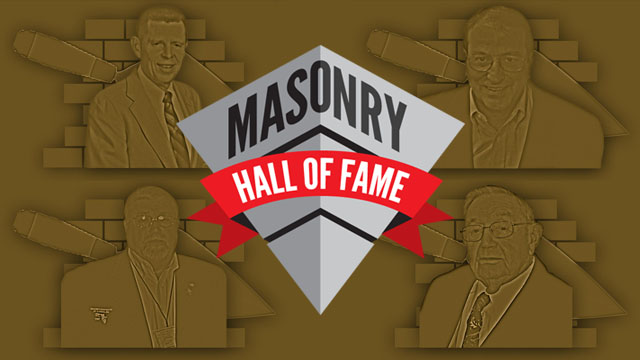 On Thursday, January 26, 2012, the Mason Contractors Association of America (MCAA) inducted four mason contractors into the inaugural Masonry Hall of Fame class at the MCAA Convention during the World of Concrete/World of Masonry in Las Vegas.
The 2012 Masonry Hall of Fame inductees included C. DeWitt Brown, Richard Felice, Jerry Painter and Glenn Sipe.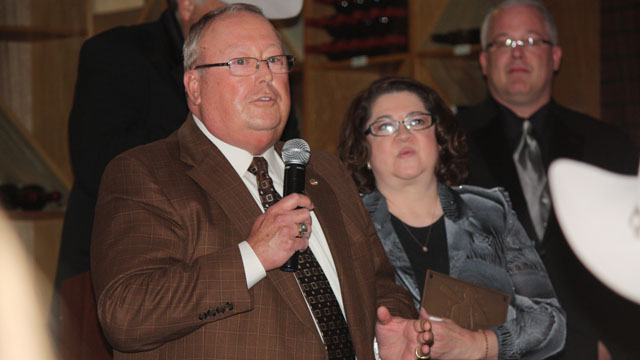 C. DeWitt Brown
C. DeWitt Brown founded Dee Brown Masonry, Inc. October 31, 1955. The company expanded to a regional contractor January 1, 1977 and a national contractor in February 1985. He established DBM/Hatch, Inc. in 1989 and Kepco+DBI, LLC in 1998.
Brown helped establish the Dallas-Fort Worth chapter of the Mason Contractors Association of America and the Associated Masonry Contractors of Texas (AMCT) in 1960. He served as AMTC President in 1963 and 1979. He later helped establish the North Texas Contractor Association and served as President in 1973.
Brown has been recognized for efforts in the formation of the North Texas Contractor Association in 1974 with the AGC of Dallas S.I.R Award. He served as President of the MCAA from 1986-1988 and is the namesake of the C.DeWitt Brown Leadman Award, presented annually by the MCAA to an individual who has provided exemplary leadership in advancing the masonry industry.
C. DeWitt Brown passed away April 25, 2000 of complications from his battle with cancer.
"To me, the greatest thing that can be said of a man is, 'His legacy lives on,'" said MCAA Past-President Mackie Bounds of Brazos Masonry in Waco, Texas. "C. DeWitt Brown's name still remains before our eyes in Texas and his company lives on."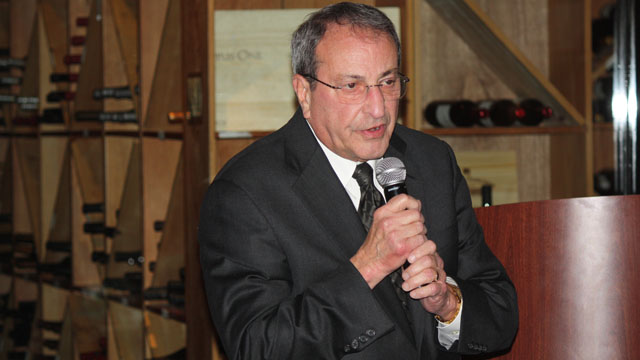 Richard Felice
"Mr. Felice has given so much to the masonry industry; it is quite difficult to keep track of it all and capture the full impact," said Jon Merk of Forrest & Associate, Inc. in Des Moines, Iowa, who inducted Felice into the Masonry Hall of Fame.
Richard Felice started in the masonry industry as a laborer and advanced to journeyman bricklayer. He began his own company in 1959 with one truck and a mixer and incorporated Forrest & Associate, Inc. in 1960 and joined the MCAA.
Felice helped establish the Masonry Institute of Iowa. He has successfully lobbied for several changes that have had significant positive impact for all masons, and has served in several organizations including ASTM, MACS, TMS, MSJC, and MCAA.
Felice is a Past-President and board member of the MCAA. He played a role in creating the MCAA's certification program and became the first MCAA certified mason contractor in the state of Iowa. Felice has developed a strong reputation for safety, quality, and innovation.
"Dick is a friend and mentor to me and the entire industry today," said Mackie. "I will be proud to shake his hand and welcome him to the Hall of Fame!"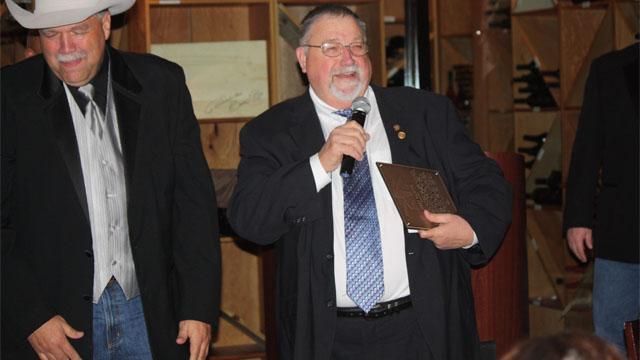 Jerry Painter
Having grown up in a family with masonry flowing through their veins, Jerry Painter was taught dedication to one's life's work at a very young age. He has been in the masonry profession with over 48 years experience in all phases of the industry including journeyman mason, masonry contractor, masonry materials, masonry materials manufacturing, lecturing, instruction, promotion, inspection, estimating, consultation and restoration.
Painter has served as Vice President and President of Painter Masonry, Inc.; an adjunct professor 1990-2002; and Vice President of Gainesville Masonry Products 1976-1983.
Leadership duties included MAF President 1989-1990, 1991-1992, 2000-2002; President of MAF North Central Chapter 1997-2006; MCAA Technical Committee Chairman; ASTM Committee Chairman; TMS Board of Directors 2001-2002, 2005-2006, 2007-2009; and North Central Florida Safety Council Board of Directors, President 2000-2001.
His honors have included Masonry Construction 1999 Industry Leader of the Year; MAF Lifetime Achievement Award 2001; ESCSI 2008 Carl G. Erskine Award; and the ASTM Award of Merit.
"Jerry Painter's significant accomplishments have had a major impact on the masonry industry," said Rashod R. Johnson, President of The Roderick Group, who inducted Painter into the Masonry Hall of Fame.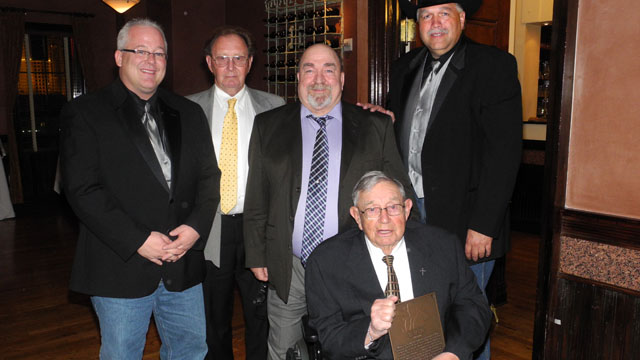 Glenn Sipe
Glenn Sipe came from a farm family in Catawba County, N.C. where he has lived his whole life. Glen worked for Herman-Sipe Construction Company who offered him a job helping as a laborer. He was promoted to the concrete gang, mixing and placing concrete by hand. He asked to be trained as a brick mason and the next summer he started his masonry training. Sipe was a regular mason by the end of 1940, and was in charge of a masonry crew by mid 1941.
In 1954, after being the masonry superintendent for Hickory Construction Company, Sipe took on his first mason contracting job for a unit-priced project in Asheville, N.C., and continued to do unit-price masonry work with his own crew through the 1950s and early 1960s.
Sipe incorporated Glenn W. Sipe & Sons in 1966, and was one of the first companies in the south to use mechanical scaffolding and to perform masonry work with lump-sum, turn-key masonry contracting. The firm was one of the most innovative and progressive masonry contracting firms in the southeast through the late 1960s and 1970s.
Glenn Sipe would say, "An educated competitor was a good friend, not an enemy." He believed helping each other was important to everyone's success. He was instrumental in forming the Western Carolina Masonry Contractors Association in 1968, which later became the Western Carolina Chapter of the Mason Contractors Association of America. The Western Carolina Chapter was among the first non-union chapters of the Mason Contractors Association of America. Sipe has served several terms as President of the Western Carolina Chapter and was a regular participant in the MCAA.
In 1974, the North Carolina Masonry Contractors Association was chartered and Glenn Sipe was elected as the new association's first President.
 Sipe was also instrumental in forming the Carolina Masonry Council promotional group. He later served as president of the Carolina Masonry Council.
Glenn Sipe retired from the business in 1987 at age 67.
About the Masonry Hall of Fame
The Masonry Hall of Fame was created to recognize and award those individuals who have dedicated their lives to the masonry industry. Each year, nominations are accepted to recognize individuals who have had a major impact on the masonry industry, not necessarily with just the MCAA, and have been in the industry for a minimum of 25 years.
All inductees are nominated by their peers and carefully reviewed by a panel of judges. Nominees must receive six of eight eligible votes in order to be accepted into the Hall of Fame. The induction ceremony is held during the Closing Banquet of the MCAA Convention.
---
About the Author
The Mason Contractors Association of America (MCAA) is the national trade association representing mason contractors. The MCAA is committed to preserving and promoting the masonry industry by providing continuing education, advocating fair codes and standards, fostering a safe work environment, recruiting future manpower, and marketing the benefits of masonry materials.
Related Articles