April 9, 2011 10:50 AM CDT
Levels and Measuring
By Masonry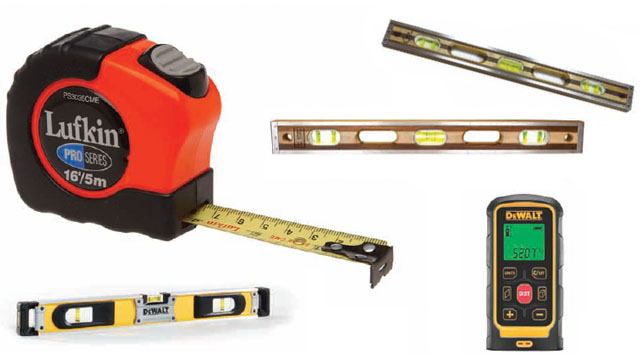 Masonry is, without a doubt, all about the precision and accuracy of your measurements and level application of products. If a mason is off in his measurements by even the tiniest amount, a structure can be unsound. The following is a showcase reviewing just a few of the measuring and leveling products that are available to our industry today.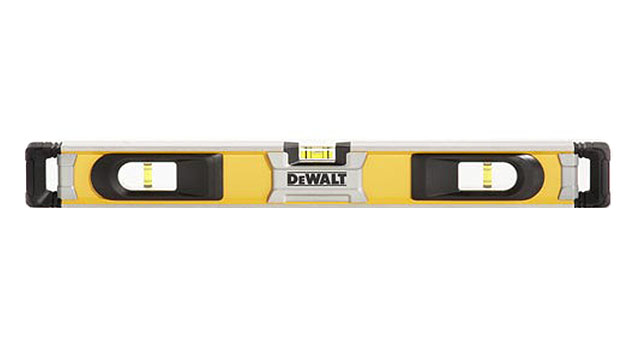 DEWALT Industrial Levels
DEWALT
Towson, Md.
Empire Level has licensed, designed and manufactured a line of box levels for DEWALT, which feature a revolutionary X-Brace and patent-pending QuadBox Chassis. They are reinforced at the center for increased strength and durability. Dual-density end caps provide superior shock absorption, and a non-slip rubber surface adds grip for optimal jobsite performance. A new vial system indexes directly to the CNC-milled QuadBox shelf and maintains accuracy throughout the life of the product with no adjustments required. In addition, the large vial housings, protected by Lexan bulletproof lenses and Xenoy plastic, offer a significantly greater viewing range. For added comfort and ease-of-use, the new levels incorporate a handgrip and integrated wall grip for hanging. The DEWALT box levels will be available in 24-, 48- and 72-inch sizes.
www.dewalt.com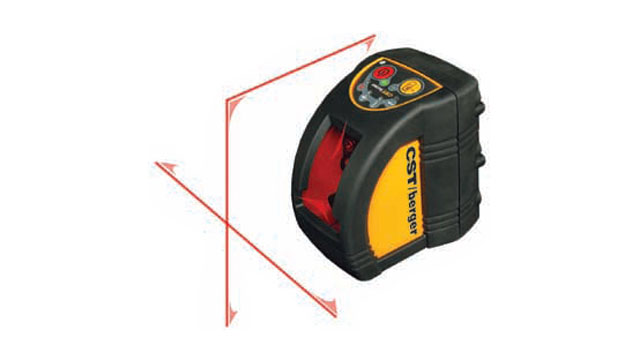 ILM-XT Self-Leveling Laser Cross
CST/berger
Watseka, Ill.
The CST/berger ILM-XT Self-Leveling Laser Cross Level features vertical, horizontal and cross line modes to project vertical/horizontal lines independently or together for a wide range of level and/or plumb applications, such as enabling masons to confirm the level/alignment of brick runs at any level. The outdoor "pulsing" feature allows the laser to be used in bright light conditions, when used with the optional line laser detector. An out-of-level range sensor triggers the beams to automatically pulse when the unit is moved out of its ±5° self-leveling range, or the unit can be set to work in manual out of level condition. The ILM-XTE Exterior Kit includes a Mini-T mounting bracket, hard carrying case and LLD20 Line Laser Receiver.
www.cstberger.com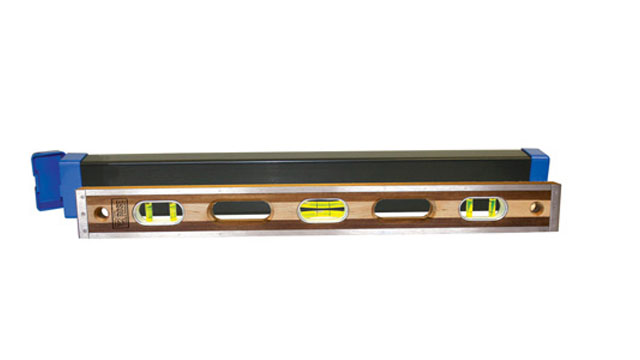 W.Rose Premium Professional Level with Case
Kraft Tool Company
Shawnee, Kan.
This W.Rose Mason's Level "Made in the USA" by American Craftsmen is accurate to .015". It has strong, walnut and maple laminated wood with 15-gauge stainless steel bindings, and is finished with a hand-rubbed oil finish for a smooth clean look and feel. The level has double-strength, replaceable lenses with twopiece, hardened, stainless-steel clips for easy cleaning. No fade precision set vials with curved glass create uniform movement. The level is available in 24 or 48 inches and comes with a convenient protective case with a hinged lid. It's the perfect level for any mason. W.Rose is a Kraft Tool Co. Brand. For more information call 800-422-2448 or 913-422-4848.
www.krafttool.com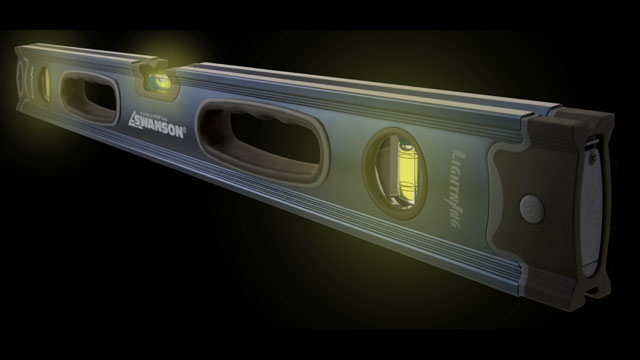 Lightning Level
Swanson Tool Company
Frankfort, Ill.
The Swanson Tool Co.'s Lightning Level is a professional, lighted level. It has three precision vials that light up brightly with one button, solving the common problem of accurately finding level in low light. Lightning Level has a patent-pending auto-shutoff after 10 minutes, so the battery won't be dead when you need it. Meticulous box-beam construction makes the level nearly indestructible, though it's also lightweight, using only two AAA batteries. Advanced rubber-polymer, Super Shock end caps absorb five times the shock of others. The Lightning Level's LED lights are built into acrylic blocks to last a lifetime. Extreme accuracy lets you level to 0.0005-inch per foot. Vials have three-ring center lines for measuring grades and slopes, and it includes channel and Vgrooves. Magnetic models have patent-pending IMS technology with internally sealed, rare-earth, neodymium magnets. Both 24- and 48-inch models are available, from $45 to $75.
www.swansontoolco.com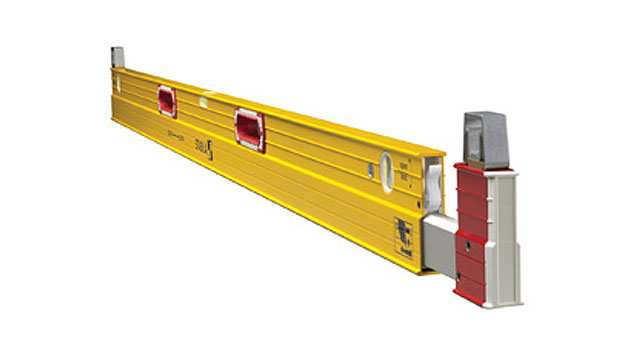 Plate Level 2 Type 106T
Stabila
South Elgin, Ill.
This level from Stabila offers a wealth of features. The Plate Level 2 Type 106T has a strong re-enforced frame and a fully sealed solid rail (six sided) extension, which eliminates deflection, and delivers the smoothest extension movement available. The level has removable 1 5/8-inch stand-offs reach around braces, and a top plumb vial that is permanently positioned at eye level. On the frame side opposite the standoffs is a level measuring surface and straight edge. The vials are guaranteed for life never to fog, leak or require adjustment. There is also certified accuracy in the top read position: 1/32-inch over 72 inches. Two sizes are available, one that extend to 10 feet, and one that extends to 12 feet.
www.stabila.com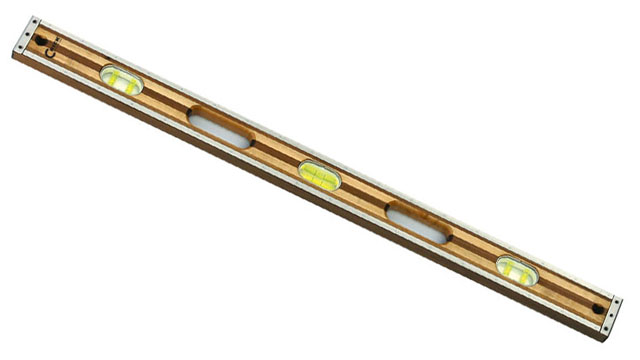 Green Vial Mason Level
Crick Tools
Ben Wheeler, Texas
The Crick Tools Green Vial Mason Level is strong, durable, accurate to .015-inch in length of level, and made in the United States. More than 50 different machines are used in production of this level to ensure precision and dependability. The materials used have been selected for their individual reliability and are assembled by craftsmen dedicated to quality. It is made from hardened, 16-gauge stainless-steel binding. Ring shank nails designed by Crick keep binding tight, and the wood is sealed with penetrating type oil. The vials are guaranteed not to leak or expand and are enclosed by chemically tempered, 1/8-inch-thick lenses sealed with silicone and secured with stainless steel retainer clips. Do it yourself replacement. Lengths are available from eight to 50 inches.
www.cricktool.com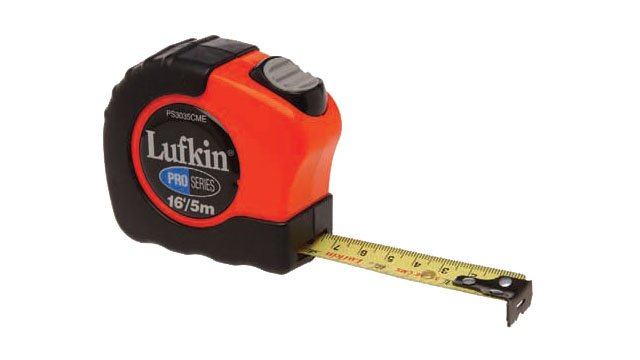 Lufkin Pro Series 3000 Power Return Tape
Apex Tool Group, LLC
Sparks, Md.
Apex Tool's Lufkin Pro Series 3000 Power Return Tape has a 3/4-inch blade width with a Ny-Clad blade coating, which extends blade life by five times. The patented end hook is designed to last 10 times longer than ordinary end hooks, and a non-slip toggle lock allows complete control of the power tape blade. The Pro Series 3000 has a rubber cushion shell that protects tape from impact and improves grip, and the compact size offers comfort and easy storage. Blade length is 16 feet. The return tape has a removable belt clip for added convenience.
www.apextoolgroup.com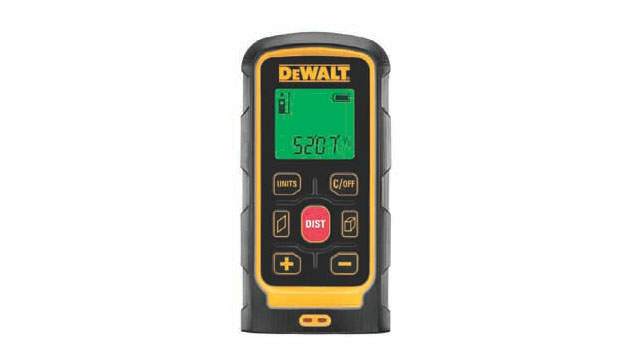 Easy-To-Use Laser Distance Measurer
DEWALT
Towson, Md.
DEWALT's laser distance measurer, DW030, provides users with a quick and efficient way to estimate space on the jobsite. The DW030 can be used by estimators, foreman, superintendents, plumbers, electricians, general contractors, HVAC, and industrial maintenance professionals to measure distance, square footage and volume. DEWALT built the DW030 with a compact design and rubber over-molding for easy grip and operation. The unit has large, clearly marked buttons that allow users to quickly and accurately select between units, area, distance and volume buttons. It has a backlight display for improved visibility on jobsites, is built to withstand a six-foot drop, is resistant to water and dust, and provides users with a unit that can endure jobsite abuse and various weather conditions.
www.dewalt.com
Originally published in Masonry magazine.
---
About the Author
Masonry, the official publication of the Mason Contractors Association of America, covers every aspect of the mason contractor profession - equipment and techniques, building codes and standards, business planning, promoting your business, legal issues and more. Read or subscribe to Masonry magazine at www.masonrymagazine.com.
Related Articles