July 5, 2009 7:00 AM CDT
New Masonry Products for July 2009
By Masonry
Heavy-duty Block Saw
Concut, Inc.
Kent, Wash.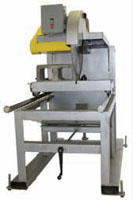 Concut Inc.'s CB-Block Saw is a 24-inch block saw featuring a heavy-duty, three-inch structural steel frame, a fixed cutting head and extremely precise and durable roller table. The 10-horsepower electric saw suits the block plant, masonry yard or masonry contractor doing a lot of cutting daily. It will consistently cut straight and resist damage. With just a change of the blade and the mounting of a bullnosing or chamfering head, this flexible saw becomes a cost-effective way to bullnose or chamfer block. It is also available in a 20-inch version.
www.concutusua.com
---
Choctaw Tumbled Natural Stone
Rock-It Natural Stone
Wister, Okla.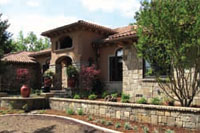 Rock-It Natural Stone has introduced Choctaw Tumbled, a natural, tumbled building stone that is available in all-natural thin veneer, pavers, wall cap material and full dimensional building stone. You can choose from this selection or any of 50 others available.
www.rock-itnaturalstone.com
---
CR1600 Cable Reel
Hannay Reels
Westerlo, N.Y.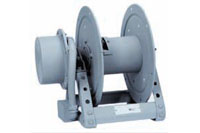 The Hannay Reels CR1600 cable reel offers live connection of power cable for direct wiring to a collector ring assembly, allowing for continuous current during cable payout and rewind. It features a standard spring tension brake, and a 45-amp, three-conductor, 600-volt collector assembly with #8 gauge wiring from the collector ring to the junction box. The standard collector assembly has copper graphite brushes with copper alloy rings for each circuit. Assemblies with additional conductors and/or amperage up to 75 amps are also available.
www.hannay.com
---
RocKit Grout Gun
Zero5
Minneapolis, Minn.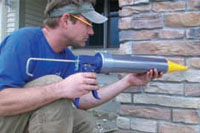 Zero5 Innovations' RocKit Grout Gun incorporates a semi-rigid tip, so grout is applied to joints similar to conventional caulking methods in that you smooth the grout joint as it is applied. This allows you to apply the mortar in one step, unlike grout bags where twice the amount of material as needed is applied and later removed when it starts to set up. Loading the RocKit is fast, with a hinged barrel that swings down to allow the use of a scoop. The barrel can also be detached and replaced with a fully loaded barrel, so production never has to stop.
www.zero5innovations.com
---
Wire Brush and Scraper Combo
Hyde Tools
Southbridge, Mass.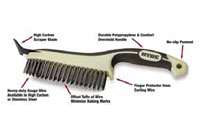 Scraping paint and pulling up flooring is tough work, and these dualaction scraper/brushes from Hyde will save time and effort. The ergonomic, soft-grip handle maximizes grip and eliminates pressure points, reducing user fatigue. A durable steel carbon blade is right there on the brush when you need it. The MAXXGRIP PRO scraper blade is set on the tapered nose of two conveniently sized industrial quality brushes: a long-handle, large brush designed for large-area prepping with a tapered nose, and an offset-handle, small-block design for smaller area prepping.
www.hydetools.com
---
About the Author
Masonry, the official publication of the Mason Contractors Association of America, covers every aspect of the mason contractor profession - equipment and techniques, building codes and standards, business planning, promoting your business, legal issues and more. Read or subscribe to Masonry magazine at www.masonrymagazine.com.
Related Articles