April 25, 2005 9:30 AM CDT
Telehandler Trends: More and Less
By Tom Inglesby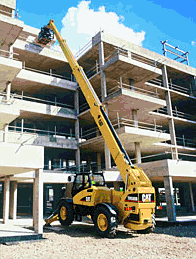 Image courtesy of Caterpillar
How much telehandler does a mason contractor need?
"Just enough and maybe a little more," would probably be the answer.
According to Ky Kuehling, Vice President of Telehandlers at JLG Industries, McConnellsburg, Pa., "The larger 10,000-pound, 54-foot-plus telehandlers have been one of the industry's fastest growing segments. This is being driven by the need for additional reach and lift height as job sites get more congested and five- and six-story buildings become more common."
In addition, larger capacity is becoming a valuable asset when unloading trucks and handling large and awkward loads, such as stone. High-capacity machines have excellent maneuverability to minimize placement concerns, claims Kuehling.
On the other hand, he also sees the market accepting smaller machines. "The 'smaller footprint' units or compact machines are being recognized for their versatility on the job site. A machine that has limited lift, say 18 to 24 feet, still has a place in the fleet to work on smaller buildings and to work in low-overhead areas, such as parking structures or underground garages."
He adds, "These units many times serve as a complement to a larger unit to speed production by focusing their efforts in areas that the bigger machines don't easily fit."
JLG is moving forward in both areas. It recently introduced the G10-55A and G12-55A models, 10,000- and 12,000-pound machines, respectively, that lift to 55 feet. "These two models complete the JLG brand by giving us four models ranging in size from a 6,600-pound, 42-foot reach model, the G6-42A, to a 9,000-pound 43-foot model, the G9-43A, to the new G10 & G12 models. We are also introducing a revamped Lull 1044C-54 Series II. This model will have a new drive train and a number of other improvements. The machine will use the same attachments as its predecessor, including the eight-foot tower that will give the machine 62-foot landing capability."
Compact units were introduced in the European market where they have caught on rapidly. JLG has made two telehandler product acquisitions in Europe to speed its development of smaller-sized units. "We will be unveiling two new models in the compact range at ConExpo in March," notes Kuehling.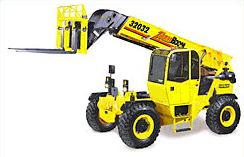 Image courtesy of Carelift
While JLG is arguably the largest manufacturer of telehandlers, with four brand names in its stable ? JLG, SkyTrak, Lull and Gradall ? smaller companies are not letting that stop them from bringing out new and enhanced models for the North American market. One of those companies is Carelift Equipment Ltd., Breslau, Ontario. Its ZB32032 is the newest addition to the Zoom Boom super heavyweight line. With a capacity of 32,000 pounds and a lift height of 32 feet, the ZB32032 retains the same rugged construction that the industry has come to expect. This new machine will also be unveiled at the ConExpo Show in Las Vegas this month.
It features a Cummins 173 HP engine, Dana powershift transmission, AxelTech axles, three modes of steering, and frame leveling. A number of tool carrier attachments are available to meet a wide range of application requirements.
Mustang Manufacturing Company, Owatonna, Minn., has introduced two new telescopic handlers. The Mustang 642 will replace the previous model 638 and increase its lift height from 38 feet to 42 feet. A new model, the 844 is being added with a rated lift capacity of 8,000 pounds and a reach of 44 feet. The 642 and 844 share boom designs with the larger Mustang Deluxe Series of telehandlers, giving them extra durability.
"We have upgraded our joystick operation to be like our popular 634 model," says Doug Snorek, Marketing Manager for Mustang. "Also, the two-joystick design was optimized using computer simulation to improve the ergonomics for the operator. The Mustang 642 and 844 pilot-operated controls have one joystick for boom control and another for frame leveling and attachment control. The previous model had three hydraulic controls, one for each of these functions."
Adds Snorek, "We have installed a new tilt cylinder, which affects how quickly the forks can be tilted and allows for increased productivity from the 638. That increase in performance can save time and money."
The Caterpillar product line now includes two additional telehandlers, the TH210 and TH215. Designed for customers who require a versatile material-handling machine in a small package, the TH210 has a rated load capacity of 4,850 pounds and maximum lift height of 17 feet. The larger TH215 carries a 5,500-pound load to a maximum lift height of 18.1 feet.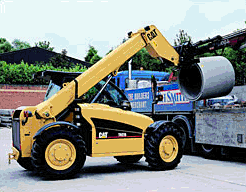 Image courtesy of Caterpillar
Both machines are equipped with a Cat 3054B diesel engine, rated at 84 gross horsepower. The engine provides reliable performance and excellent fuel efficiency working in conjunction with a high-pressure, closed-circuit hydrostatic drive to deliver powerful, smooth acceleration and continuous torque through two speed ranges. The engine is fully compliant with the latest emission regulations.
The TH210 and TH215 are equipped with a standard enclosed cab, certified to provide falling object and rollover protection. The standard suspension seat and steering wheel are adjustable to accommodate operator preferences. An air suspension seat is available as an option. A low-profile design, side-mounted engine and low boom pivot point allow the operator to carry loads in a low position without obstructing visibility to the right of the machine. The mid-mounted cab also improves the viewing area to the rear.
At the other extreme, Caterpillar introduced the TH580B telehandler, the largest in its new B-Series line. The TH580B features a four-section boom that enables the machine to lift loads as high as 56 feet and to reach forward 42 feet. The TH580B has a rated load capacity of 11,000 pounds and features three steering modes ? two-wheel, crab and circle steer ? for agile maneuvering in tight spaces.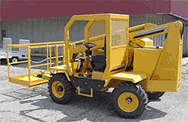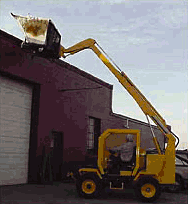 Images courtesy of Flannegan Western
Flannegan Western (FW), Emmetsburg, Iowa, sees a need for a compact telehandler that can be transported to the job site with a three-quarter ton pickup and a 12,000 GVWR trailer. The FW telehandler is only 11'4" long x 7' wide x 7'4" high and was designed using standard and modular components that are used throughout Flannegan Western products. Mike Flannegan says, "Our experience in the construction industries allows us to produce a high-performance telehandler that will meet the needs of both the residential and commercial contractors alike."
The FW design features two-wheel or four-wheel drive models, and 32, 45, or 65 HP engines. With an overall width of just seven feet, this telehandler will operate in a confined space. In addition to its numerous productivity-enhancing features, this compact, rugged telehandler incorporates an innovative cab design and easy-to-use joystick controls. Various attachments make this a very versatile telehandler.
Gehl Company, West Bend, Wis., has made significant improvements to its 6,000- and 8,000-pound RS Series rough terrain telescopic handlers. The new units have increased lift heights, up to 44 feet on the RS8, making it a true "four-story machine." The new RS6 telescopic handler has a longer boom that reaches to 42 feet, and its rated operating capacity has been increased to 6,600 pounds.
The new booms have a welded box-section design that they share with the proven Gehl Dynalift Series that makes them even stronger than previous models. Increased operating capacities are achieved without the use of outriggers or fluid-filled tires ? although for added stability, outriggers are now optional.
A rear axle stabilizer cylinder has been added to the RS Series machines to improve stability when the boom is raised more than 60 degrees, the parking brake is applied, or the PWP System is activated. Other improvements include a stronger frame with reinforced C-channels, internal wet disc brakes for better stopping capability and longer life, and a SAHR (Spring-Applied, Hydraulically Released) parking brake. The SAHR parking brake applies automatically when the engine is shut off, or manually by pressing a rocker switch.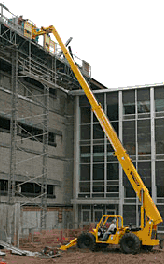 Image courtesy of Pettibone
The Extendo Traverse T8044 telehandler from Pettibone, Baraga, Mich., features nearly six feet of horizontal boom travel at every lift height, letting operators lift and land loads in hard-to-reach locations with ease. The telehandler enables precision load placement through windows and other openings. Its low-profile design fits under an eight-foot doorway for increased flexibility and productivity in low-overhead areas.
"This is a huge advantage in terms of productivity," says Pettibone's President, Kevin Walsh. "When you have to get a large load onto a second- or third-story landing, the T8044's horizontal boom lets you easily go right through an opening without repositioning the machine."
Its standard Cummins turbo-charged 110 horsepower diesel engine with full electronic control provides optimum power and meets Tier II low-emission standards. With an 8,000-pound lift capacity, more than 44 feet of lift height and 36 inches of forward reach, the T8044 is ideal for all masonry applications. In addition to lifting material up and through high, narrow spaces, the unit has the industry's tightest turning radius ? less than 12 feet ? which allows for efficient operation and faster job completion. Walsh cites this as a major advantage of this model since most job sites have multiple machines operating in close quarters.
Standard performance features on the Traverse T8044 include two-wheel, four-wheel and crab steering so users can match the machine's operation with the task at hand. The Quick Attach system makes it easy to switch between a wide range of Extendo attachments, including buckets, truss booms and fork carriages. The standard boom-tip auxiliary hydraulic supply gives operators the flexibility to use multiple hydraulic functions at the same time for greater versatility.

Image courtesy of Ingersoll-Rand
Getting back to the compact-sized equipment, Ingersoll-Rand introduced its VR-530C telescopic-tool material handler, which combines the versatility of a tool carrier with the reach and capacity of a lift-and-place machine. Its compact footprint and tight turning radius allow it to maneuver easily in the tightest of job sites. Its lightweight and rigid boom design is said to outperform other telescopic handlers in its class, and the narrow Quick Attach optimizes visibility of the load at all points in the lift zone.
The VR-530C comes standard with a four-cylinder, 100-HP Perkins 1104C-44T turbo-charged engine and hydrostatic transmission. Operators can choose between low and high all-wheel-drive modes. Working speeds, forward and reverse, range from 0 to 4.6 mph with available inching, while travel speeds range from 0 to 15.4 mph. Steering modes include two-wheel for higher speeds, four-wheel for minimum turning radius, or crab-steer for machine positioning. The VR-530C has a tight turning radius of 12" 8', allowing easy access within confined spaces.
The VR-530C's three-stage boom is designed for maximum flexibility between tool carrier and intermediate lift-and-place functions. Angling 62 degrees up, the boom extends to a maximum lift height of 30 feet and a maximum forward reach of 21 feet.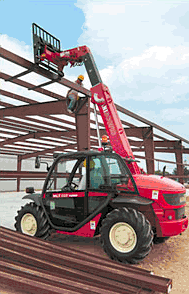 Image courtesy of Manitou
Another company that is looking at the compact telehandler market is Manitou North America. Its "Ultra Compact" 523 joins the product line as one of the smallest rough terrain trucks on the market. An overall width of 71 inches and overall height of 79 inches makes this model a go-anywhere machine. Its 161-inch turning radius makes it very easy to handle, and its small size enables it to be used in the most confined of spaces.
The newly released MLT 523 MU model is equipped with a 64 HP turbo engine, fully enclosed cab and "Mono Ultra" single joystick control. The MT model offers a naturally aspirated 54 HP engine and open cab. The 523 series also offers excellent performance, with a lift height of 16 feet and a basic capacity of 5,000 pounds. The 523s are identical in appearance to the larger Manitou units and offer comparable capabilities, an excellent balance between performance and compactness.
In addition to the 523, Manitou also introduced the MT 6642 with 42 feet of lift height and a rated operating capacity of 6,600 pounds. A larger version, the MT 8044, will lift 7,000 pounds to the full lift height of 44 feet and 8,000 to 37 feet. Both models feature a welded box-section design boom, making them some of the strongest on the market. Increased operating capacities are achieved without the use of stabilizers or fluid-filled tires, although for added stability stabilizers are an optional feature. Also optional on the MT 6642 and MT 8044 models is a Work Platform System (WPS) that allows the use of ANSI/ASME B56.6-compliant work platforms, offering even more versatility.
Xtreme Manufacturing, a Las Vegas-based equipment company, has several telehandlers in its line-up ranging from one with a 37-foot stretch and 7,000-pound capacity to its largest unit, the XRM1157, with an 11,000-pound capacity and 57-foot height. The XRM1157 features almost 42 feet of forward reach, hydraulic outriggers, a Perkins 4.4 liter, 122 HP Diesel engine and fail safe braking that stops the vehicle operation if hydraulic pressure drops to zero. With 24 degrees of frame sway, the load should always be level, even in severe situations.
So the trends are for both less, as in smaller size, and more ? lift capacity, extended height and boom reach. As JLG's Kuehling says, "I don't think that there is a practical limit on telehandlers for the mason contractor. Many years ago everyone thought that the 6,000-pound, 36-foot machines were all that they would ever need. Many masonry contractors have found the versatility and flexibility that the larger capacity and higher lift machines offer. With the increased popularity and use of self-erecting scaffolding, larger capacity telehandlers are needed to move these structures around a job. If a telehandler is more efficient and productive than a material hoist on a four-story building, the same benefits will be true on a five- or six-story project."
---
About the Author
Tom Inglesby is a San Diego-based freelance writer whose work has appeared in numerous online and print publications. He is the winner of the Construction Writers Association's 2002 Boger Award for Special Reports.
Related Articles