August 18, 2004 9:16 AM CDT
Block On Block: A Brief History of Segmental Retaining Walls
By Tom Inglesby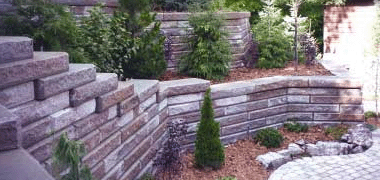 After all these centuries, it only took imagination and engineering, and a desire to help his community save money, for an inventor to develop the segmental retaining wall system. Here is the story.
Humans have been piling stone atop stone, block on top of block, and brick on brick for thousands of years. Now, we call it masonry and sometimes wonder if there is ever going to be anything new in the field. Hard to believe, but new techniques and technologies do come along to change the face of masonry.
"I noticed, especially on the street where I lived, that the municipality used to tear down and put back up, almost every second year, some rubble walls," recalls Angelo Risi. "Sometimes they would use broken pieces of sidewalk stacked up. With the frost we have in Canada, invariably the wall would start moving around and in a couple of years they would be rebuilding it again. I thought to myself, 'My uncle is in the business, and if he could build something that would lock itself into place, that would solve the problem of constantly rebuilding these walls.' We came up with the idea of basically a slab with a broken face and a tongue and groove to it so that they would lock into each other. We tried it ? we called it Pisa Stone after the Leaning Tower in Italy ? and I was able to get a patent on it."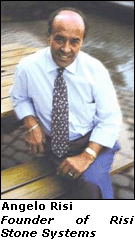 The result was well received and, over the years, Risi and his brother Tony bought out their uncle and created Risi Stone Manufacturing, Thornhill, Ontario. "We couldn't afford to buy the factory so we just rented it and bought the company's assets," Risi says. "We started making retaining wall systems, as well as continuing some products that our uncle was making at the time. Within about five years we had started developing different types of retaining wall systems, in our own plant; more the machine-made type as opposed to the wet cast form."
The idea of solid, high-strength concrete units that interlock with a continuous tongue and groove to form a flexible, stable dry-stacked retaining wall system might seem simple now, but in the late 1960s, it was unheard of. Pisa Stone is, therefore, the forerunner of the segmental retaining wall (SRW) unit and still a leader in that niche market.
As the units became known in the local market, word traveled and interest grew with inquiries generated from several other concrete products companies in Canada. "We only wanted to be careful that no one within 50 miles of our plant was making the same system," claims Risi. "At that time, we didn't even think about licensing the system."
That changed in 1982 when Risi licensed the concept to others. Not to be outdone, Risi added new sizes, appearances, and even functionality to the Pisa Stone idea, always maintaining the basic principles from the original. And he tracked the market carefully, watching for other ideas to expand the company and market.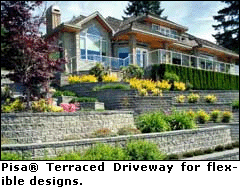 One of these was the Dura Crib system. Patterned after the landscape timber or railroad tie retaining wall, these concrete structural beams combined facing units with reinforced tie-backs and were used in a crib form that had the overall effect of a large gravity wall. More durable than wood, these systems are popular with landscape architects and engineers.
The next step was the Pisa2 block. These were developed in response to a need for greater flexibility in designs for walls, both in structural and landscaping applications. These blocks provide the same stability with the added benefit of being able to accommodate tight radii and the "snaking" wall geometry that is popular in many parts of the world.
The original Pisa Stone idea was for a simple vertical wall. "The original patent did not incorporate setback, it was purely up and down," Risi notes. "In order to incline the wall we actually told the contractor to install the base at an angle. But in 1981 we were issued a patent where each tongue and groove is offset automatically from each other. That meant the wall would gain an automatic setback just by stacking the blocks level on top of each other. We were the first to have the automatic offset if you will."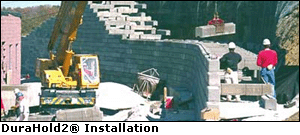 As retaining wall systems became more common, other companies modified the techniques used in building the walls. The development of geogrid reinforcement mats in the mid-1980s was another changed approach. "Due to their high weight and geometric configuration, our products integrated well with a number of different soil reinforcements," claims Risi. "The composite mass created by the geogrid, engineered fill material, and our strong facing units resulted in a high-performance structure that was a good retaining wall with almost unlimited height potential."
Walls became higher, and with the added height came higher complexity in the engineering. Risi worked with Dr. Richard Bathurst, a renowned researcher in segmental retaining wall technology to continuously test materials and designs. One result of this was the development of RisiWall, a software program for SRW design. The program allows designers to design and produce elevations and cross-section views in CAD drawings for a project. "Much of our current effort has been to make RisiWall 5.0 the most comprehensive design software on the market," explains Risi. "Our licensees use it to stay one step ahead of their competition."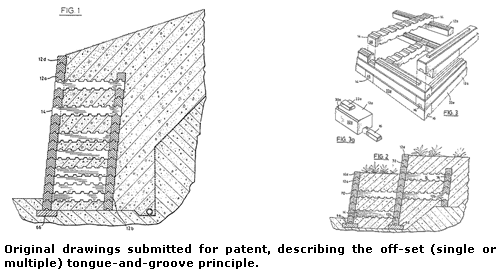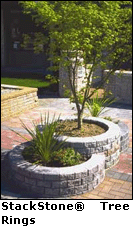 The Risi brothers are devoting their time to ideas, not manufacturing, these days. "We sold Risi Stone Manufacturing but we maintained the licensing of our patented products," Risi says. "Risi Stone Systems is the collection of systems that we have and license under our licensing company."
Angelo Risi is still working on new ways to present his SRW concepts. Now, instead of utilizing the resources of his concrete block facility, Risi makes prototypes in Styrofoam. "Our job is to improve the products, to keep them in the forefront of the industry. When the time is right, we can move these ideas from Styrofoam to concrete and develop them further."
One of the monumental reminders of man building by placing stone on top of stone is the Great Wall of China, the only man-made structure visible by the naked eye from the Space Station. Risi can look upon this wall and feel a growing kinship. "Our Malaysian licensee and a partner in Hong Kong are going to set up a plant in China to make Risi Stone SRW systems. That's a major step for a Western company ? there is a great potential in China for our wall system."
Whether or not the next "Great Wall" will be a segmental retaining wall, Chinese mason contractors will soon be able to build these strong, durable and practical walls just as their counterparts in Canada and the U.S. can do now.
---
About the Author
Tom Inglesby is a San Diego-based freelance writer whose work has appeared in numerous online and print publications. He is the winner of the Construction Writers Association's 2002 Boger Award for Special Reports.
Related Articles