June 22, 2004 8:44 AM CDT
Raising Scaffolding's Return on Investment
By Tom Inglesby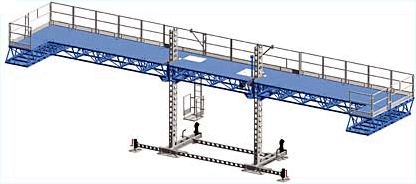 Mast climbers have been the large-scale scaffolding of choice with companies that want to see a short period return on investment. Now smaller contractors are looking closer at the benefits of masonry's "big rigs."
MCAA member Gates Construction Company, Charlotte, N.C., relies on its 24 mast climbers from Hydek, Atlanta, Ga., to help them scale the sides of buildings such as the Sharon Towers in Charlotte. Many buildings in downtown Charlotte do not have much more than the width of a sidewalk in which to place machinery. Hydek mast-climbing equipment allows Gates to work in that limited space.
Recently, Gates Construction needed assistance in preparing to work on the Presbyterian Hospital project in downtown Charlotte. The Hydek staff advised the general contractor and structural engineer on how to cantilever out three floors in the air and then set the scaffold on a tower crane to take it up eight floors.
"Hydek had all their weights figured out and the layout of how the scaffolding needed to be applied, and when they walked away, the architect, the contractor and the structural engineer were all satisfied," says Dink Mitchell, General Superintendent for Gates Construction.
While Gates Construction might be larger than a typical masonry company, their story is not unique in the industry. Mast climbers have been popular with larger companies for several years, allowing them to do the really big jobs faster, easier and safer than would be possible with pipe scaffolding or even some of the competitive non-motorized self-erecting scaffolds. It's unusual to see a large masonry project wrapped in anything but a mast climber these days.
But where does the return on investment (ROI) for a mast climber allow a company to consider this productivity enhancer? What size company or job makes it impractical to consider anything else?
'We liked it so much...'
Remember the TV commercial with the tag line, "I liked the product so much, I bought the company"? In Bozeman, Mont., Anthony Smith of Smith Precision Masonry liked mast climbers from Bennu, Terrebonne, Quebec, Canada, so much, he spun off Big Sky Scaffolding to distribute the units in Idaho, Montana, Oregon, Wyoming and Washington.
Judd Mashaw, General Manager of Big Sky and formerly with Smith Precision Masonry, comments, "If [Smith Precision Masonry] was putting up a single-story building, then we'd just use conventional scaffolding. But we liked to use the Bennu as much as we could. In fact, if we had the high-speed power unit that Bennu offers, which is just a 7 x 7 foot platform, we might have been able to use that instead of conventional scaffolding on those smaller projects."
From a labor standpoint, the loading and unloading of frames, X-braces and the hundreds and hundreds of boards needed in setting up conventional scaffolding on a large project takes much longer than setting up hundreds of linear feet of a mast climber.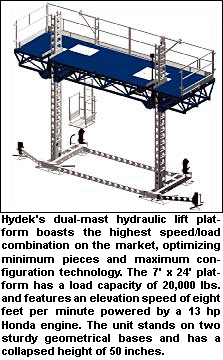 Motorized mast climbers, according to Mashaw, have replaced other lifting scaffolding at Smith Precision Masonry.
"We have some crank-up style scaffolding, and we'd love to sell it to somebody," says Mashaw. "We just haven't used it since we have the Bennu."
He adds, "From a safety standpoint, I don't know how many times pipe scaffolding has either collapsed, or you've had broken fingers from plank movement and other accidents. Just having to move all of those frames, X-braces and boards into place takes a lot of time and a lot of laborers. On the other hand, one pretty talented operator and I put up almost 200 feet of Bennu that will go up 30 feet, and we did it in one day. I would suspect it would take a solid week or so, and quite a few crewmembers, to put up that same amount of conventional scaffolding."
Safety is an intangible value of the mast climber. In developing an ROI, most companies won't ? or can't ? factor in a lower injury rate. After all, accidents can't be predicted, or they wouldn't be "accidents."
Yet according to A. M. Patterson III, founder of Hydek, safety is an important consideration. "I think the big thing we look at, initially, is safety in terms of what our Hydek machines provide to the job site. Material handling is reduced, and with that the shrinkage that comes from all that moving around is improved. Another area is improvement in ergonomics. A mason using our product is always working at waist height."
Patterson expands on the value of mast climbers: "Neck-and-neck with safety is the idea of efficiency. For some of our smaller clients, the mast climber also tends to level the playing field. We have clients that are three or four crewmembers who may own two or three mass climbers because it enables them to compete with larger companies that may or may not be using the mass climbers too. Obviously, every job is different, but all things being equal ? on a similar job and with people willing to work a similar number of hours ? I think we can demonstrate that there's a 30 to 40% increase in productivity."
Measurable Productivity
Productivity can be measured in both masons placing material and laborers moving that material onto and around the work area. With raising work platforms, motorized or crank-up, there is another set of measurements: time and effort to raise the platform as the work goes up.
Fred Ayers, sales and marketing manager at Fraco, St-Mathias-sur-Richelieu, Quebec, Canada, compares the labor input for raising a mast climber versus crank-type scaffolding. "In a 105-foot area of crank scaffolding you have 16 towers and 15 bays, which means you have 16 cranks to crank, and at three-quarters inch per turn, it takes awhile for you to be able to crank the scaffolding up to keep the mason at optimal working level. Plus, with all the weight that's on the platform, the laborer waits for the material to be depleted. He or she doesn't raise the scaffolding when it needs to be, but waits for the material to be at its lowest point."
Ayers continues, "On 105 feet of scaffold on a 12-inch block wall, a contractor may have six or seven bricklayers up there. With crank-up, the mason contractor is probably going to have four or five laborers servicing those bricklayers. The laborers have to stock through the braces. They have to crank the cranks and when you get past a certain height, the laborers have to hop the [lifting] cables up.
"With the mast climber, none of that is necessary. In the same area, with a Fraco mast climber, you normally only need two laborers to service the whole scaffolding. There's nothing for them to do up there except get the material to the bricklayer. And with no obstructions, no braces, etc., it's a wide-open area, so it's a lot easier for them to restock the platform."
Palm Pilot Scaffolding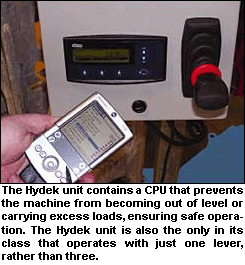 Formerly Mid-Atlantic Scaffolding, Hydek was a distributor for mast climbers from other companies and then decided it could offer even more value with its own product. Patterson recalls, "We decided to develop our own product, an improvement over the various systems that were in the marketplace but still very, very similar. In fact, we made a point of designing systems that were compatible with the Bennu product because we had a large customer base that had invested in Bennu and we wanted to ensure that we were able to continue to serve them over the useful life of their Bennu machines."
Patterson explains where some often overlooked benefits can be found when doing the ROI on a scaffolding system. "Another big area, and maybe not the most obvious, is if you've reduced your labor, you've got reduced insurance cost and, therefore, reduced exposure to liability and workman's comp. You have to look at it beyond just one job, out over a longer period of time, and then you'll see a meaningful impact."
Traditionally, multi-lever systems operate a mast climber power unit. The Hydek unit, however, uses a single-lever system. Patterson adds, "Our system also incorporates a very sophisticated computer system that uses a PDA. If the machine is out of balance on one side, for example, and you need to true it up, the computer will tell you that. And it will read in Spanish and five other languages as well. In the real world, we have a lot of Spanish-speaking people that work on the product, so now we can switch the mode to Spanish and they can read all the instructions and everything that is going on with the system."
He notes that Hydek has improved feedback in other ways. "On most systems, there is no measuring device to say how much weight is on the deck. We have changed that so if we have a 20,000-pound capacity and the workers put 22,000 pounds on it, it is going to read up on the screen '22,000 pounds ? won't lift.' When the unit is in a cantilever situation or on a roof of an existing structure and we can only apply 12,000 pounds of weight, we can set the system to 12,000 pounds and it won't lift after 12,000 pounds."
One Hydek user, Perry Sanders, Vice President of Caretti Inc., Camp Hill, Pa., sums it up by saying, "Once it's in place there are no hidden hazards, and Hydek helps us save money because the faster I can get the scaffold in place, the faster the masons can start laying bricks."
---
About the Author
Tom Inglesby is a San Diego-based freelance writer whose work has appeared in numerous online and print publications. He is the winner of the Construction Writers Association's 2002 Boger Award for Special Reports.
Related Articles