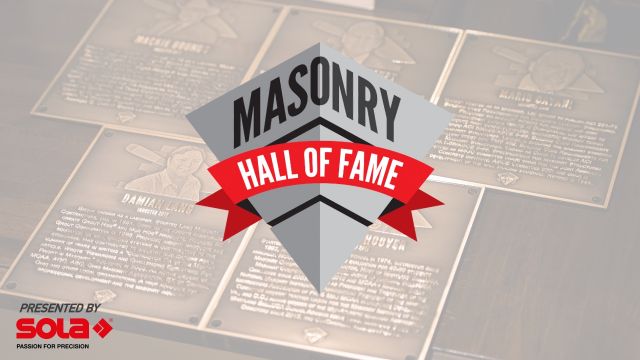 March 27, 2023 3:00 PM CDT
Nominations Open: 2023 Masonry Hall of Fame Presented By SOLA
Award Ceremony To Take Place on Wednesday, 9/20 During the MCAA Midyear Meeting
Nominations are officially OPEN for the Masonry Hall of Fame Presented By SOLA's Class Of 2023. To submit a nomination, log into your MCAA account and visit the hall of fame page. Do you know a business leader who has dedicated their life to the masonry industry? This person does not have to be an MCAA member to be nominated, and you do not have to be an MCAA member to submit. Nominations will close at midnight on May 19th, 2023.
We encourage anyone who knows someone that might deserve the recognition to submit a nomination. Please be as descriptive as possible in the nomination, and remember that the judging panel may not be as familiar with the individual as you are.
Please call the MCAA at 800.536.2225 with any questions.
MCAA Strategic Partner, SOLA, will again serve as the sole sponsor for the 2023 Hall Of Fame.
CLICK HERE TO LEARN MORE ABOUT THE 2023 MCAA MIDYEAR
---
About the Author
The Mason Contractors Association of America (MCAA) is the national trade association representing mason contractors. The MCAA is committed to preserving and promoting the masonry industry by providing continuing education, advocating fair codes and standards, fostering a safe work environment, recruiting future manpower, and marketing the benefits of masonry materials.
Related Articles