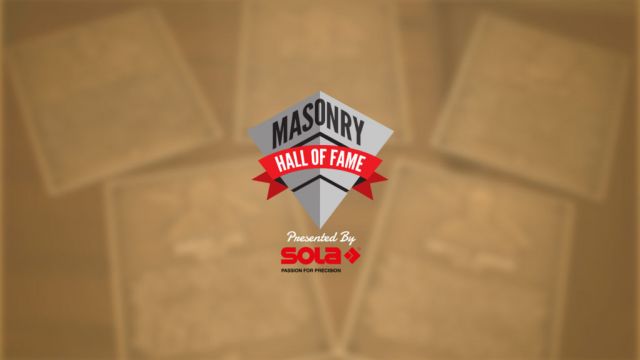 March 20, 2023 8:00 AM CDT
SOLA Returns As MCAA's Masonry Hall of Fame Sponsor For Third Consecutive Year Ceremony and Closing Dinner
To Occur September 20th During Midyear Meeting
The MCAA is proud to announce that Strategic Partner, SOLA, will again serve as the sole sponsor of the Masonry Hall of Fame for the third year. In 2021, SOLA served as the sole sponsor of the event at the Midyear Meeting in Memphis, Tennessee. In 2022, SOLA sponsored the Hall of Fame again in Lake Geneva, Wisconsin. The 2023 Midyear Meeting will take place September 17-21 in Hershey, Pennsylvania.
"The MCAA Mid-Year meeting and the Hall of Fame dinner have become cornerstone events for us! We are thankful for the opportunity to celebrate and acknowledge the contributions of those long timers who have made such an impact on the craft. When people ask what I do for a living, I am humbled to say I work for a company that supplies builders with the tools they use to construct civilization. SOLA and Keson are striving to levels of excellence that these individuals embody." 


Jude Nosek, VP of Sales and Marketing of Keson LLC
This continues SOLA's involvement with the MCAA, which includes a Strategic Partnership, donating levels to MCAA events at World of Concrete, writing a monthly column in MASONRY Magazine. SOLA is also scheduled to participate in Hands-On Speed Dating during the 2023 Midyear Meeting.
"We would like to again thank SOLA for helping us continue to build the Masonry Hall of Fame into one of the flagship MCAA events. Their approach to this sponsorship is thoughtful and they've added their own touches to the event, such as providing a custom-engraved level to previous inductees into the Hall of Fame. We both share our tremendous respect and admiration for those who've dedicated their lives to support the masonry industry."
Jeff Buczkiewicz, MCAA President and CEO
As part of The Masonry Hall of Fame Presented By SOLA 2023, all social media, print, digital, and video content will be co-branded. Additionally, the Awards Ceremony and Dinner itself will feature extensive branding recognizing SOLA for their generous support of the program.
ABOUT SOLA: For over 70 years, the brand SOLA has made high precision measuring and marking tools. As market leader in premium spirit levels, the Austrian company manufactures a wide range of products, including: screeding levels, folding rules, long and short tapes, squares, marking products, laser distance meters and a customized laser program. SOLA's approach is to develop and continuously optimize its products to match its customers' requirements as closely as possible. SOLA Measuring Tools is globally present in 70 countries around the world. 75% of all products are manufactured in Goetzis, Austria, where the headquarters and production facility are located. This is where 200 employees develop, produce and distribute a product range of more than 1,500 articles. The high-quality standards that SOLA has set for itself are subjected to constant control in the company's own laboratories and testing facilities. For more information, please visit: https://www.sola.at/en-us.
About Keson LLC:
Keson is a third generation, family-owned company founded in 1968 in the basement of the Nosek family home in Berwyn, Illinois. Now headquartered in Aurora, Illinois, Keson is well known for providing reliable, innovative and easy-to-use measuring and marking products to professional tradespeople who are passionate about their work. They believe outstanding service is just as important as outstanding products. Find out more at www.keson.com
ABOUT THE MASONRY HALL OF FAME PRESENTED BY SOLA: The Masonry Hall of Fame was created by the Mason Contractors Association of America to recognize and award individuals who have dedicated their lives to the masonry industry.
For more information on the Masonry Hall of Fame, please visit masoncontractors.org/hall-of-fame.
---
About the Author
The Mason Contractors Association of America (MCAA) is the national trade association representing mason contractors. The MCAA is committed to preserving and promoting the masonry industry by providing continuing education, advocating fair codes and standards, fostering a safe work environment, recruiting future manpower, and marketing the benefits of masonry materials.
Related Articles