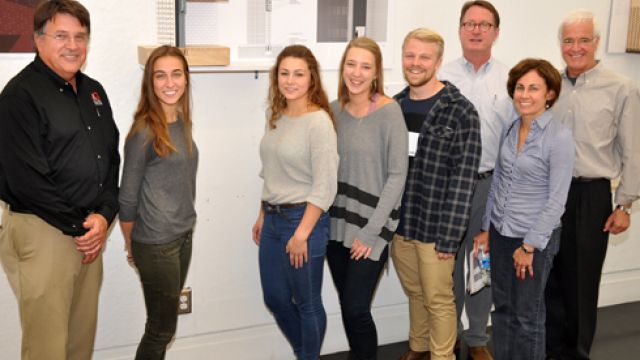 October 22, 2016 12:30 PM CDT
NC State Sigmon Design Competition 2016
Adam, Doyle, Lackey and Rossitch named winning team
By Lynn Nash
The 2016 NCMCA Sigmon Memorial Scholarship Design Competition took place in October at NC State University in Raleigh.

The winning team of Nicole Adam of Hickory, Emily Doyle of Chapel Hill, Sam Lackey of Apex, and Nick Rossitch of Concord, shares a semester's tuition as their prize.

The competition required the team to design and model a hypothetical masonry office building. The competition is part of Professor Rand's "Architectural Construction Systems" class at NC State University's College of Design and is a graded class assignment. Ten teams participated.

Finishing in second place was the team of Austin Marshall, James Popin, Lillian Wu, and Marianne Bowker. Third place was Smith Marks, Nick Chandrasurin, Cam Westbrook, and Austin Lowman. The fourth place team was Olivia Blue, Rebecca Linker, Cameron Elliott, and Morgan Harrison.

The scholarship is named in memory of David, Randy, and Dwayne Sigmon. 2016 marks the sixteenth year for the NC State/NCMCA Sigmon design competition.
---
About the Author
A Cary, North Carolina businessman is the new president of the North Carolina Masonry Contractors Association (NCMCA.) In April, Danks Burton, general manager and president of Pinnacle Masonry, Inc., was elected to head the 145 member firm professional trade association.
Related Articles