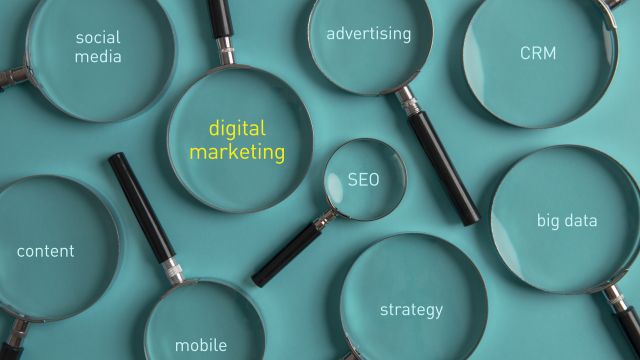 November 30, 2021 8:00 AM CST
Social Media Marketing & the Masonry Industry
As a masonry industry professional, you may find yourself feeling confident navigating your way around a mortarboard, but utterly lost when trying to wade through your company's social media message boards. If that sounds like you, you're not alone, but statistics show that company's that fail to capitalize on social media marketing are missing out on a lot of potential business. A recent study by Blue Corona Marketing shows that "90% of buyers now turn to the internet to solve all their home building needs, including managing a new design-build project or renovation. In fact, 53% of buyers start their search online, frequently on a search engine," which will provide instant access to your company website and social media profiles. Whether you're an active consumer of social media content, completely new to internet marketing, or fall somewhere in between, masonry industry professionals of all experience levels should consider adding social media marketing to their upcoming advertising campaigns.
Unfortunately, there is no one-size-fits approach to implementing social media marketing for a professional company in the masonry industry. With questions like "how much should I budget," "how much time do I need to invest" and "how do I get started" swirling in your head, it can be intimidating to get started. To help clear things up, MASONRY Magazine recently spoke with Paul Cantarella, President at C&S Co. Inc. as well as Greg Hutchinson, Marketing and Public Relations Manager at SPEC MIX for their thoughts on how to best integrate an effective social media marketing strategy for your masonry business.
What is Social Media Marketing?
Before diving into different recommendations for how to start social media marketing on your own, it is important to understand the basics. Construction industries like masonry thrive on word-of-mouth reviews and recommendations, and at its core, that is social media marketing! Platforms like Facebook, Twitter, Instagram, LinkedIn, Snapchat, and TikTok allow users all over the world to connect and share content like videos and photos, questions, recommendations, and more with a few clicks of a button on a phone or a few keystrokes on a computer. But how do you stand out from the crowd when it comes to getting your company in front of the right audience? And how do you know what they want to see?
Once you have an established online presence, you can get started immediately by posting a wide variety of content that promotes your business, services, or product offerings. To gain your audience's attention in the vast digital world, it's important to stand out, make your mark, and present your company's services and information in an easily accessible way. Setting up a website and social media profiles may sound daunting, but in fact, only require a small amount of time and effort to complete.
The first thing to do, advises Paul Cantarella, Jr., President at C&S Co. Inc., is to sign up "for a social media account. From there, add some nice pictures of a completed project, the crew working on-site, equipment/forklift in action or specialty tools you may be using, or even your office staff...Maybe a video of you walking the job site and showing off the crew working or showing your shop manager working on some equipment."
When potential clients hear about your company and want to learn more about the services you offer, you want to create an attractive space for them to visit. A blank page is boring, but a page full of videos, testimonials, and recommendations from previous clients and fellow employees will go a long way in impressing a potential client into requesting an estimate from your company instead of the competitor.
For more inspiration on populating your page and getting started, Cantarella also advises checking out fellow mason contractors' pages to see examples of how they promote their business. Take notes on the things you like and don't like about their pages, and use that information to further improve your own company profile.
Implementing a Social Media Strategy
Once your profile is set up, it's crucial that you keep it actively interacting with your audience. However, there is definitely a right and wrong way to go about doing so. "Don't post too much," warns Greg Hutchinson, Marketing and Public Relations Manager at SPEC MIX. He explains that it can be argued "that the algorithms actually punish businesses for sharing too much content. Your brand will only see X amount of eyeballs a day, no matter how much you share. If people aren't engaging in that content, it tells the algorithm your content isn't worth seeing." What does that mean for the average mason contracting company or supplier carving out their online presence for the first time?
Simply put, when new content is shared on a social media platform, it's added to the stream of other posts, and who sees those posts is decided by the platform's algorithm logic. Posts receiving more engagement, or interactions from followers, are steadily pushed to, and subsequently seen, by more and more people as they grow in popularity. This means when an account posts extremely often or spams its followers with excessive content, the algorithm will keep posts from being seen by many audience members. Rather than post similar content again and again, instead "be smart about your choices," and know your options, advises Hutchinson. Try to "run A/B tests on your posts and try to find the formula which drives the most engagement and shares. Doing so will help you grow your presence organically, and once you've got an active base, if you supply the right content, your followers will do the "growth" work for you."
Instead of posting every few hours, consider a social media scheduler like Sprout Social, Hubspot, or Later. There are dozens of different options at a wide variety of price points that can be tailored to the needs of an individual company. For those looking to DIY their social media content marketing, the platforms themselves offer great resources. "Facebook, for example," says Hutchinson, "has a very powerful business manager, which allows anyone to target audiences with extreme precision – not only on their parent platform but on Instagram as well. You can meet with their team for free and get detailed, one-on-one lessons, on how to set up audiences, and build ads that achieve your goals."
Taking the time to invest in learning to use social media tools like these and understanding how things like hashtags work will further help you develop engaging content for your social media pages. "Using a hashtag (like #masonrystrong or #masonryrocks, for example) that are related to the Masonry industry and construction industry is one of the best ways to reach the right audience," agrees Cantarella, adding that "another way is to tag associations that you are part of or publications you read like the MCAA or MASONRY Magazine." This small extra effort will go a long way in ensuring that your posts are reaching the right audience successfully.
But Why Does the Masonry Industry Need Social Media Marketing?
When asked about the true importance of social media marketing in the masonry industry, Paul Cantarella believes that "at the end of the day, social media is bar far the better option and bang for your buck compared to traditional marketing," and it is his opinion that "traditional marketing will always be there, but the majority of businesses will be leaning towards using social media to reach the new generation."
Hutchinson agrees, adding "The lesson here is to not quit on traditional marketing, but remember that your audience spends a lot of time on social media, and it never hurts to try to stay in front of them where they like to play the most." The important thing, he adds, is to "do it in a way that gives them value and encourages them to engage."
By no means does this mean you should run to retain the expensive services of a pricy marketing agency, but it is important to stop and consider if your mason contracting company or masonry supplier company is doing enough by the way of social media marketing. After all, says Hutchinson, "if you have the expertise in-house to manage your Social Media marketing, there is no real reason to hire an agency. The basics aren't that complicated - and at the end of the day, it all comes down to what you are trying to accomplish." As we roll into 2022, it is all the more necessary to take a step back and evaluate your online marketing presence. Perhaps this is your sign to look into some tools like a social media scheduler to automate your content and make your marketing strategies more efficient - or take the plunge and set up your company's social media profile for the first time.
Remember, MASONRY Magazine is always here to help! If you have any questions about topics covered in this article, please contact our Social Media Editor at cstern@masonrymagazine.com.
---
About the Author
Related Articles