April 19, 2006 7:30 AM CDT
Fastest Trowel Speeds into Vegas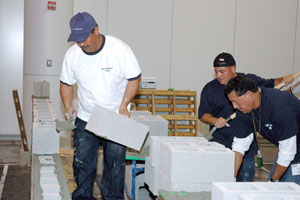 Mike Canez, III of Triple M Masonry, Phoenix, AZ, winner of the 2006 Fastest Trowel on the Block Competition
The skill and speed of fifteen masons and their tenders were highlighted at Masonry Showcase's premier event in Las Vegas on March 31st. The annual Fastest Trowel on the Block contest drew an audience of hundreds to the exhibit floor to catch the action and see who would win the $7,000 grand prize. Contestants came from across the country to compete against each other to build the biggest and best block wall.
The contest was more exciting than ever, as all the masons built quickly and with great quality. The audience picked their favorites and cheered them on through the twenty minute competition. After the judges did their scoring, the results were announced. The winners are:
First Place: Mike Canez, III
Triple M Masonry, Phoenix, AZ
Second Place: Pascal Robertson
Robertson Masonry, Apopka, FL
Third Place: Moroni Meja, II
Rhino Masonry, Mesa, AZ
MCAA thanks QUIKRETE, the contest sponsor and contributor of labor and mortar. Other materials were contributed by Bon Tool, EZ Grout, Gatorback, Rinker and Sterling Handling Equipment.
---
About the Author
Melissa Polivka spent time as the Director of Marketing, Director of Membership, and Director of Workforce Development for the Mason Contractors Association of America.
Related Articles