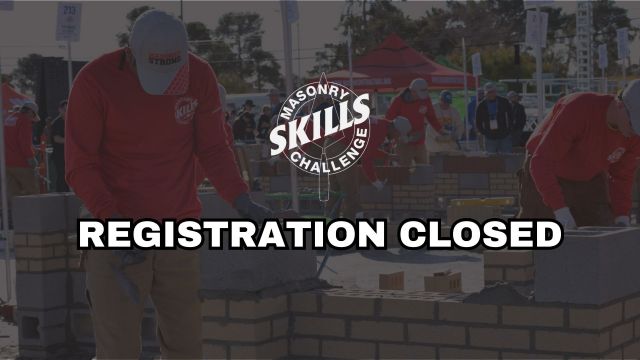 October 27, 2023 8:00 AM CDT
2024 MASONRY SKILLS CHALLENGE SOLD OUT
SKILLS CHALLENGE SET TO TAKE PLACE ON WEDNESDAY, JANUARY 24
Registration for the 2024 Masonry Skills Challenge is officially closed. Due to the high demand, the spots allocated for this year have been filled. There is currently a waitlist, but we cannot guarantee any additional spots will open. Please call the MCAA at (800) 536-2225 to be placed on the waitlist.
If you are interested in judging the 2024 Masonry Skills Challenge, the MCAA is looking for highly trained and qualified experts for our Masonry Skills Challenge that will be held on Wednesday, January 24, 2024 in Las Vegas during MASONRY MADNESS® at the World of Concrete/World of Masonry. To register as a judge please click on the link below, verify your information, and submit your registration.
CLICK HERE TO JUDGE THE 2024 MASONRY SKILLS CHALLENGE
---
About the Author
The Mason Contractors Association of America (MCAA) is the national trade association representing mason contractors. The MCAA is committed to preserving and promoting the masonry industry by providing continuing education, advocating fair codes and standards, fostering a safe work environment, recruiting future manpower, and marketing the benefits of masonry materials.
Related Articles