April 1, 2002 8:30 AM CST
Fastest Trowel on the Block Competition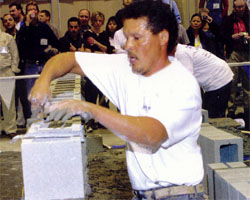 Winner Rudolfo Ramirez, concentration and keen skills award him $5,000
Once again the Fastest Trowel on the Block Competition, Sponsored by Spec Mix, was an amazing display of craftsmanship and skill. Sixteen contestants from around the country, including many past national award winners and seven regional competition winners, competed for a cash award of $5,000 and an array of prizes. The crowds were deafening as the contestants ran on adrenaline alone at the end of the twenty-minute heat.
This contest continues to showcase the skill of a journeyman mason and how important teamwork is in accomplishing a final product. The twenty-four foot walls are judged objectively in six categories, and technique is solely the journeymen's preference.
Nine contestants returned from the 2001 competition ready to compete. Contestant Mike Magee's comment covered everyone's anticipation, "I have been thinking about this all year, I know what I have to do today." With the winning scores only 0.56 of a point apart, the competition was close all around!
Fastest Trowel Winners
First Place:
Rudolfo Ramirez
GBC Masonry
Lake Elsinore, CA
Second Place:
Ben Houghton
Better Built Masonry
Durant, IA
Third Place:
Mike Canez III
Rivera Masonry
Phoenix, AZ
Other Contestants:
Billy Joe Roberts
Masonry Institute of Tennessee
Portland, TN
Bill Morrisette
Morrisette Masonry
Chickamunga, GA
Michael Magee
Magee's Masonry
Gulfport, MS
Tyrone Piehl
Florida's Finest Masonry
Casselberry, FL
Tim Schroeder
Schroeder Masonry, Inc.
Leipsic, OH
Bobby Gerlach
Scott's Masonry
Casselberry, FL
Rex Allen
Dedmon Masonry
Jacksonville, FL
Glen Houghton, Sr.
Houghton Masonry
Blue Grass, IA
Jeff Goebel
Sutter Masonry, Inc.
El Mirage, AZ
Barry Winn
Winn Masonry
Richmond, VA
Luis Culajay
NuWay Inc.
Stanton, CA
Fidel Martinez
Keystone Masonry Contractors
Topsfield, MA
Mike Salmon
Mowles Masonry Inc.
Quinton, VA
The MCAA would like to thank the following contributing sponsors: Sterling Handling Equipment, MK Diamond, Partner Industrial, Marshalltown Trowel, National Lime Institute, Tovel, Crick Tools, Multiquip, Bon Tool and Superlite Block.
---
About the Author
Rachel A. Young, CMP was the Director of Meetings and Conventions for the Mason Contractors Association of America.
Related Articles