Cadillac Hotel Rehabilitation and Adaptive Reuse
Seattle, WA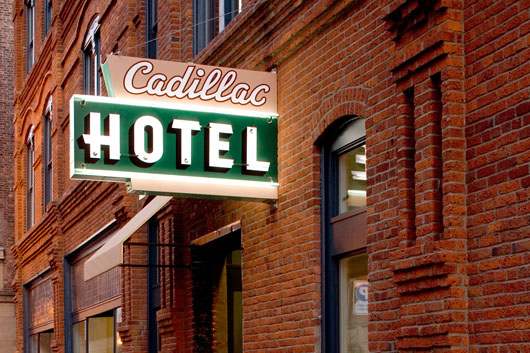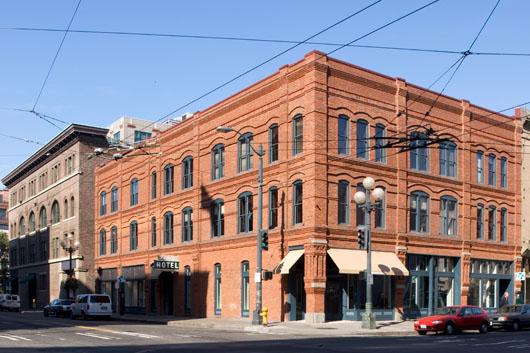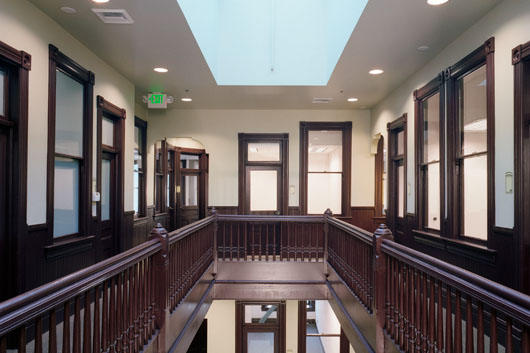 Mason Contractor: Pioneer Masonry Restoration Company, Inc.
Architect: SMR Architects
Project Description
The building now known as the Cadillac Hotel was among the first masonry buildings constructed after the Great Fire of 1889 that destroyed most of downtown Seattle. Built in the High Victorian Italianate style and located on a busy corner, the 3-story Cadillac Hotel is a visually important part of the Pioneer Square Historic District. The integrity of the Cadillac Hotel and other harmonious brick buildings in Pioneer Square, Seattle's original commercial center, was a major reason for the district's 1970 listing on the National Register.

Following the intense 2001 Nisqually earthquake, the Cadillac Hotel faced a precarious future. Its severely damaged exterior, yet surprisingly intact upper floor interiors, were initially slated for demolition. Fortunately, many individuals, professionals, and organizations came together to ensure the building's survival. Historic Seattle quickly requested the opportunity to research preservation alternatives, and invested $60,000 from its Save the Buildings Fund to evaluate the building. After structural engineers determined it feasible to save and rehabilitate the structure, Historic Seattle offered to purchase the Cadillac, demonstrating great persistence and willingness to accept significant financial risk.

The cornerstone of the building's rehabilitation was retaining the remaining original architectural features and the reuse of existing building materials despite the degree of damaged/removed historic fabric occasioned during and after the earthquake. The importance of this rehabilitation strategy was evident on the building's exterior, where the structure stood, behind protective shoring, for over two years with large holes in its historic masonry elevations. Attention focused on rehabilitating the existing window sash and frames and salvaging, evaluating and integrating existing and new masonry.

After the earthquake, fallen brick was removed from the site and stored on an empty lot two miles away. In order to amass useable, original brick for the reconstruction, an inventory of the salvaged brick was combined with interior wythes brick obtained from additional demolition during construction. However, the recovered original brick inventory was found insufficient to re-build all the damaged facades, so a search for a compatible new and/or recycled brick occurred concurrently. Assuming an exact match would not be found, some elevation studies were made to analyze how to use the collection of existing and new brick.

The building's contemporaneous historic link to the time period of the Klondike Gold Rush, together with a potential tenancy agreement with the National Park Service, led to the basement and ground floors being designed for the Seattle Visitor Center of the Klondike Gold Rush Historical Park. With office space on the upper two floors, its programmatic use was able to take advantage of the intact original lightwell, interior transoms, and relites.

It took more than four years to save and rehabilitate the Cadillac. The completed rehabilitation was celebrated with a public reception on September 22, 2005. On February 11th, 2006, the Gold Rush National Historical Park relocated to the Cadillac and re-opened, uniquely exhibiting once again one of the most important periods in Seattle's history.