January 5, 2016
5 on 5 with Curtis Hoover
Contractor to Contractor
The Mason Contractors Association of America (MCAA) sat down with Curtis Hoover, masonry instructor of Center of Applied Technology - North, to discuss the history of the company, challenges faced, and the future of the masonry industry.
MCAA: Tell us about the history of your school.
Curtis Hoover: The Center of Applied Technology North opened in 1974. The original name was North Arundel Vo-Tech. We draw our students from seven different high schools in the northern end of our county. We are strictly a vocational center. We have 22 different programs for grades 9 through 12, with some 1,500 students registered to attend.
I have been teaching the Masonry Program for the past 22 years. I was here when the doors first opened in 1974 and I am teaching the same Masonry program I got my start in. It is awesome watching young men and women come in to the program as a freshman or sophomore and watch them grow from not knowing what a brick or block is to building a beautiful wall or project around our school or neighboring schools. We have built three American Flags out of all Masonry, one in our classroom right after 9/11, one in our courtyard and one in a competition for it makes a village. Each one was done with different students and those students will carry the memories with them the rest of their lives. We also have worked on the Extreme Makeover show in Baltimore. It was a very satisfying to have our students be able to give back to the community. They were impressed when they found out that my masonry instructor, some 35 years ago was also laying brick on the project.
MCAA: What do you think has been the key to your school's success?
Hoover: The teachers working here at CATN are all professionals in their trade area, as are our business partners. For 22 years I have been here, I have only had to purchase materials in my first year. With the exception of a few ton of sand and practice mortar, my business partners have provided all types of materials, brick, block, specialty block, stone, and more. I am envied by my peers! I explain to them that they only need to make the connection with their local suppliers and contractors. Business partners are incredible! Many of my business partners went through this program and are now successful masons, foreman, and owners. In addition to their generosity with materials, many of our partners are also generous with their time. They come in to the classroom and speak to the students about their experiences and businesses and also lend a hand with the SkillsUSA competitions.
All of our students leave with some kind of certification; the masonry students will leave with NCCER Core Curriculum and Masonry I certifications.
MCAA: What advice would you offer a budding mason contractor?
Hoover: Get involved in your local high school/technical school! These schools will welcome you with open arms to come in to talk to the students, help with mock interviews, or watch them work on their projects. I think it helps the students when they hear advice from someone working in the trade. When you get involved in mock interviews with the students, you are not only helping the students focus on their future; you may also be interviewing a future employee! Support your local schools by making donations of materials and tools too. Schools are on very tight budgets, so everything helps. A monetary donation to regional or state competitions is also welcomed. Awards are made to 1st, 2nd, and 3rd place winners. The advertisement for your business is good for you and when students see what I call outside involvement, it makes a difference!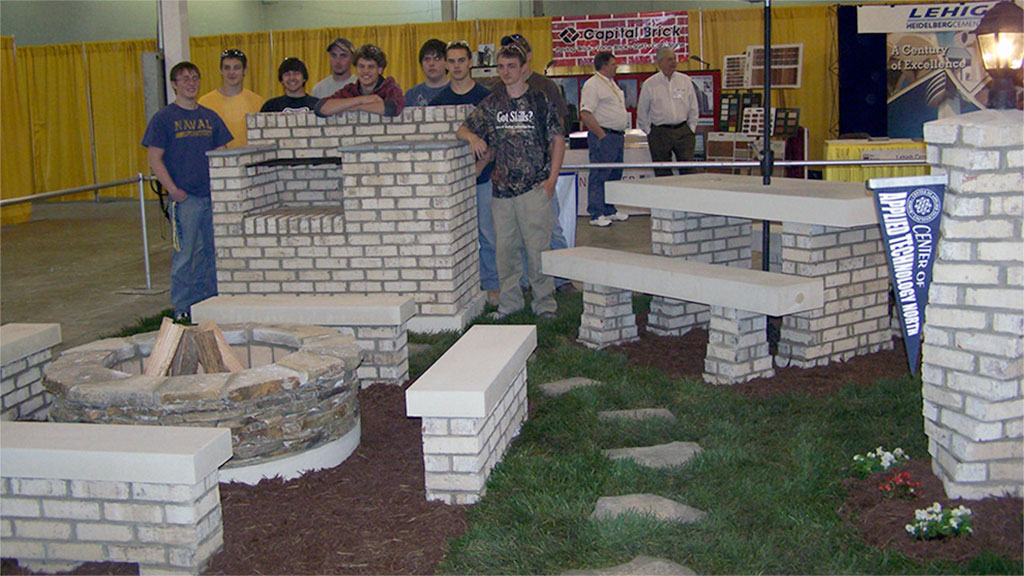 MCAA: What do you feel is the masonry industry's biggest challenge in the future?
Hoover: The biggest challenge in the future is getting young men and women interested in masonry as a career. We see this in our own school. I can get students started in the program, but will lose 70% of them before it becomes their career completer. We need to promote the trade more in all school systems starting at the middle school level. Students and their parents need to understand the wide variety of careers within the masonry industry, from mason to instructor to project manager or contractor. Many traditional career options for students have been overlooked more recently amid the high interest in the technology industry. Now that our economy is "back to basics", it's time to get students and their parents to consider the advantages of working in vocational trades.
MCAA: What is your favorite aspect of being a member of the MCAA?
Hoover: The MCAA has opened up so much to me as an instructor. The networking has been most valuable with the ability to join the common goal of promoting masonry. If I have questions, I can get answers directly from the source. Members include contractors, suppliers, instructors, and business partners working together to advance to industry and support our future workforce.