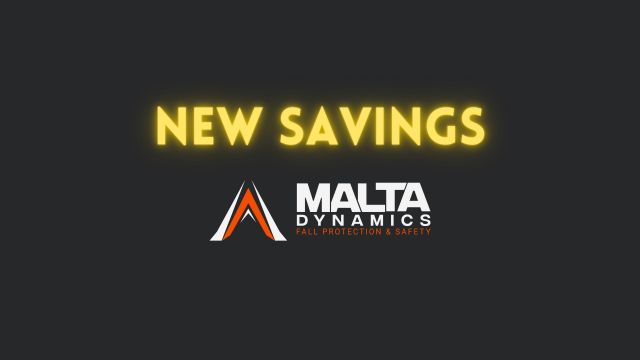 August 3, 2023 10:04 AM CDT
New Safety Savings Program Launched With Malta Dynamics
Just Use Code MCAA15 On Your First Order At Malta Dynamics To Receive The Discount Each Time You Shop
By Dan Kamys
CLICK HERE TO VISIT MALTA DYNAMICS AND MAKE SURE TO USE CODE MCAA15
The MCAA is thrilled to announce a new savings program from longtime supporter Malta Dynamics. With this new program, companies just need to use code MCAA15 once to receive the discount. All future orders will then reflect special pricing. The Malta Dynamics Savings Program is similar to the Lowe's For Pros Savings Program established in 2020. 

"Malta Dynamics is an emerging company that many in the industry already use. By providing a special discount just for our audience, this should provide a tremendous savings for companies in fall protection, PPE, and other safety equipment. In addition, we look forward to sharing Malta's thought leadership and knowledge with the industry. We encourage our entire masonry-industry audience to take advantage of this program," said Jeff Buczkiewicz, President and CEO of the MCAA. 

Members and friends of the MCAA will receive the following: 

15% Product Discount
Free Shipping (no minimum)
Free Returns
24/7 Support
To receive MCAA pricing, please make sure to create an account and use code MCAA15 on your first order. All future orders after that will automatically receive the discounted pricing as long as you're logged in. 

"Malta Dynamics has had access to my Masonry companies since we started producing safety products in 2015. Our masonry crews and Safety Managers help develop these products for our specific needs in the field. It's natural for us to now work with the MCAA and offer masons around the country great products at good prices, straight to their site or shop," said Damian Lang, CEO of Malta Dynamics. 

The MCAA is actively working to establish additional Savings Programs for the masonry industry. Currently, Lowe's For Pros and Malta Dynamics are flagship savings programs. Look for future Savings Programs in specifically-targeted categories to roll out in the near future. 

About Malta Dynamics: Malta Dynamics is a full-service manufacturing company specializing in fall protection solutions. We design, engineer, and manufacture an ever-increasing product line of fall protection and safety equipment to serve the general industry and construction.

About Mason Contractors Association Of America: The Mason Contractors Association of America (MCAA) is the national trade association representing mason contractors in the $33 billion industry. The MCAA is committed to preserving and promoting the trade by providing continuing education, advocating fair codes and standards, fostering a safe work environment, recruiting future manpower and marketing the benefits of masonry materials. 

---
About the Author
Dan Kamys is the Editorial Director of MASONRY Publications.
Related Articles