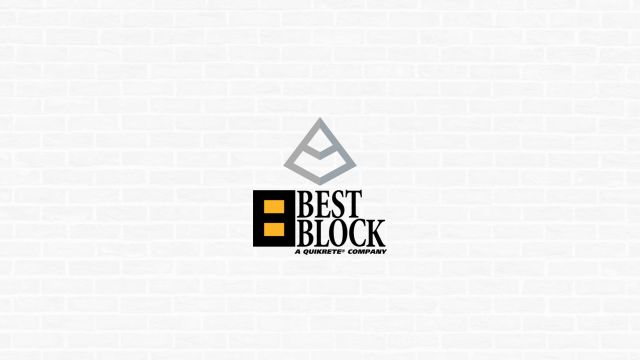 June 21, 2023 7:53 AM CDT
Best Block Secures Silver Spot In The Masonry Alliance Program
The Industry-Immersion Program Kicks Off In 2024 And Will Serve As The New Way For 70 Active Suppliers To Be Involved
By Dan Kamys
Best Block, national provider of concrete masonry, will join the MCAA's Masonry Alliance Program at the Silver level. As part of this commitment, Best Block becomes one of just 70 companies to receive unparalleled access to the $33 billion masonry industry. 
"Best Block is proud to continue its support of the MCAA. To continue to compete effectively, it's important that our industry remain strong and proactive in promoting masonry. Our involvement with the Association also allows Best Block to work side by side with the membership to support workforce development initiatives," said Justin Meyer, Vice President Sales at Best Block.

Availability for verbal commitments in the Masonry Alliance Program is now open to any interested company. The MCAA has recently launched a dedicated website, masonryalliances.com, with full details on the program. Starting in 2024, the MAP replaces Strategic and Corporate Partnerships as the only way for active suppliers to remain involved in MCAA activities. 

"Best Block has continued to get more involved with the MCAA over the past few years. It's a great sign of confidence from our friends at The Quikrete Companies to also move Best Block into the Masonry Alliance Program at the Silver Tier. We look forward to future work together," said Todd Fredrick, MCAA Director of Development. 

The Masonry Alliance Program is broken into four tiers: Cornerstone, Platinum, Gold, and Silver. Items such as event attendance, advertising in MASONRY Magazine, sponsorships, content development, and more will no longer be available to any company outside of the 70 within this program. 

About Best Block: As part of The Quikrete Companies, Best Block is built on a blueprint for success. From R&D to manufacturing to logistics, Best Block is how the category leader does concrete masonry. The capabilities of a national manufacturer delivered with unrivaled local support. Trust a dedicated team of masonry experts solving challenges and ensuring success. Tap into The QUIKRETE Companies distribution and logistics network where Best Block can deliver palletized masonry block, SpecMix bagged goods and a variety of accessories. Best Block simplifies the specification process with a curated collection of options that incorporate both traditional and progressive color styles paired with textures to meet any number of design needs.

About Mason Contractors Association of America: The Mason Contractors Association of America (MCAA) is the national trade association representing mason contractors in the $33 billion industry. The MCAA is committed to preserving and promoting the trade by providing continuing education, advocating fair codes and standards, fostering a safe work environment, recruiting future manpower and marketing the benefits of masonry materials.
---
About the Author
Dan Kamys is the Editorial Director of MASONRY Publications.
Related Articles