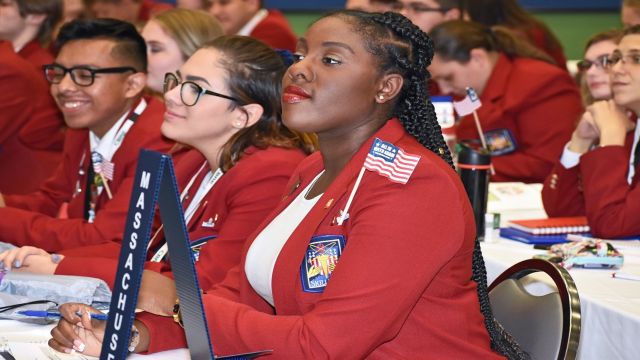 March 22, 2023 8:00 AM CDT
2023 SkillsUSA NLSC to Empower the Nation's Future Skilled Workforce
Words and Photos: SkillsUSA
Pageantry, excitement and inspiration will unfold at the 2023 SkillsUSA National Leadership & Skills Conference as the nation's skilled trades talent pipeline is developed and new leaders emerge. SkillsUSA empowers career and technical education students and instructors to become world-class workers, leaders and responsible American citizens. The organization's mission will be on display at the conference, June 19-23, at the Georgia World Congress Center in Atlanta.
Approximately 15,000 students, teachers and industry partners will participate, and over 6,000 students will compete in 110 trade, technical and leadership fields to prove their skill in automotive technology, construction trades, masonry, prepared speech, entrepreneurship and more. As competitions take place in 1.79 million square feet of exhibit space, over 200 exhibitors will be right alongside them at SkillsUSA TECHSPO, ready to meet the nation's future skilled workforce. Rounding out the event are industry and education workshops, two general sessions and a community service project to benefit Atlanta children. At the closing Awards Ceremony, more than 1,150 gold, silver and bronze medals will be awarded to our new national champions. Industry supports the event as competition organizers, judges, exhibitors and sponsors of various events.
Masonry students from the nation's best high school and college/postsecondary programs will compete at the 2023 SkillsUSA Championships for gold, silver and bronze medals as well as industry awards and scholarships.
SkillsUSA is active in 4,200 middle schools, high schools and college/postsecondary programs. Annual membership is 393,000 including alumni and 14.2 members have been served since 1965. Click here for SkillsUSA TECHSPO exhibit and partnership opportunities. Learn more about the conference at NLSC.SkillsUSA.org. If you have questions or want to get involved, call SkillsUSA Customer Care at 844-875-4557.
---
About the Author
The Mason Contractors Association of America (MCAA) is the national trade association representing mason contractors. The MCAA is committed to preserving and promoting the masonry industry by providing continuing education, advocating fair codes and standards, fostering a safe work environment, recruiting future manpower, and marketing the benefits of masonry materials.
Related Articles