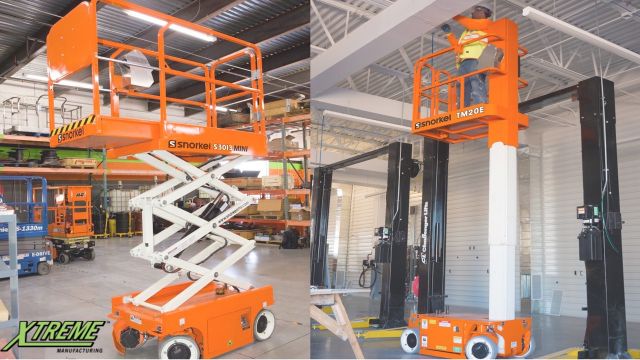 March 15, 2023 8:00 AM CDT
XTREME MANUFACTURING & SNORKEL TO LAUNCH NEW MACHINES AT CONEXPO
BOOTH #F9227
Las Vegas, NV (March 14, 2023) — Xtreme Manufacturing and Snorkel are excited to announce the lineup of new construction equipment to be exhibited at CONEXPO/CON-AGG on March 14 – 18, 2023, in 20,000- square-foot outdoor booth #F9227 at the Las Vegas Festival Grounds.
There will be seven new Snorkel machines debuting at this year's CONEXPO. In the Electric-Drive Scissor Lift category, the company will be rolling out the S3013 Mini, the S3219 Plus and the S3220 Mini. The S3013 Mini features a maximum working height of 19 feet, the S3219 Plus has a working height of 25 feet and the S3220 Mini offers a working height of 26 feet. All three models also come with an extendable platform as standard equipment and can fit through a standard doorway, making them ideal for indoor and outdoor applications.
In the category of Electric-Drive Mast Lifts, the TM20E joins Snorkel's best-selling line of versatile and zero-emission mast lifts that feature a zero-degree inside turning radius and are compact enough for a wide range of applications.
Two new Rough-Terrain Articulating Boom Lifts will make their first appearance at the event — the 600AJ and the 600AJN. Both models feature maximum working heights of 66 feet and maximum platform capacities of 1,000 lbs, but the 600AJN has a width of 7 feet (compared to the 600AJ width of 8'1") making it suitable for use in applications that require a narrower machine, such as tradeshow setup.
Four new models join Snorkel's popular and environmentally friendly line of lithium-ion scissor lifts, which won the EquipmentWatch Highest Retained Value Award for 2022. The S6926RTE, S6933RTE, S6940RTE and S6947RTE Rough-Terrain Scissors offer working heights ranging from 32 to 53 feet and feature Snorkel's lithium-ion technology for quiet, zero-emission operation.
Xtreme Manufacturing will also be exhibiting at booth #F9227 and will unveil its ground-breaking new tracked telehandler the company has affectionately nicknamed "Trackzilla." The mega-xtreme-capacity XR50100-G telehandler features a record-breaking maximum working height of 100 feet and a maximum lifting capacity of 50,000 pounds, giving this monster of a machine the ability to handle the heaviest loads at the highest heights.
Another first for Xtreme is the Xtreme Glazier. The XR2215GL glass lifter features a two-section boom with a maximum extension of 65 inches and a lift capacity of 2,200 lbs retracted and 500 lbs extended.