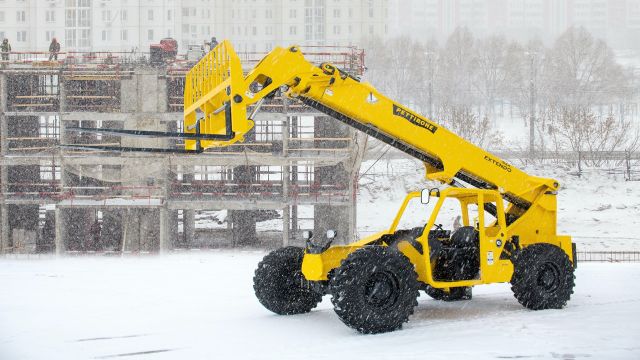 March 10, 2023 8:00 AM CST
Pettibone to Debut 15,000-Pound-Capacity X-Series Telehandlers at CONEXPO
March 14-18, 2023
BARAGA, Mich. — Expanding the capabilities of its X-Series product lineup, Pettibone will introduce its new 15,000-pound-capacity (15K) telehandlers at booth #W42417 during CONEXPO-CON/AGG, March 14-18, 2023, in Las Vegas.
The 15K launch will add two models to Pettibone's Extendo telehandler line. Each machine is powered by a 117-horsepower Cummins Tier 4 diesel engine and offers a maximum lift capacity of 15,000 pounds. The added lifting power makes the 15K Extendo units ideal for material handling in highway construction and pipe yard applications, in addition to enhancing load capacity for traditional building construction sites.
The new telehandlers are built on Pettibone's next-gen X-Series platform, delivering a combination of rugged dependability, user-friendly controls, and clear sightlines for excellent visibility.
Like all models in the X-Series lineup, the 15K telehandlers feature an advanced boom design, including formed boom plates for a high strength-to-weight ratio. Boom deflection has been minimized for better control and accuracy when placing loads. Considerable boom overlap provides smooth operation and reduced contact forces on wear pads.
Drivetrain and axles have been optimized to provide greater tractive effort with minimal tradeoff on top-end speed. A pintle hitch mount adds versatility for towing. Built for use on rough terrain, the unit offers full-time 4-wheel-drive with limited-slip front axle differential.
The new Extendo telehandlers come standard with X-Command®, a Pettibone telematics program that offers real-time access to machine data, thereby saving time and money for equipment owners and service technicians.
Pettibone will also display its Traverse T944X telehandler, featuring an extendable, traversing boom that moves loads by traveling horizontally. Traverse is currently the only telehandler product line in the industry that offers this capability.
Pettibone/Traverse Lift, LLC is part of the Industrial Technologies Group, an affiliate of The Heico Companies. Founded in 1881, Pettibone has been recognized as the industry leader in material handling equipment since the company revolutionized the industry with the first forward-reaching, rough-terrain machines in the 1940s. For more information, call 906-379-4529 or visit www.gopettibone.com.
---
About the Author
The Mason Contractors Association of America (MCAA) is the national trade association representing mason contractors. The MCAA is committed to preserving and promoting the masonry industry by providing continuing education, advocating fair codes and standards, fostering a safe work environment, recruiting future manpower, and marketing the benefits of masonry materials.
Related Articles