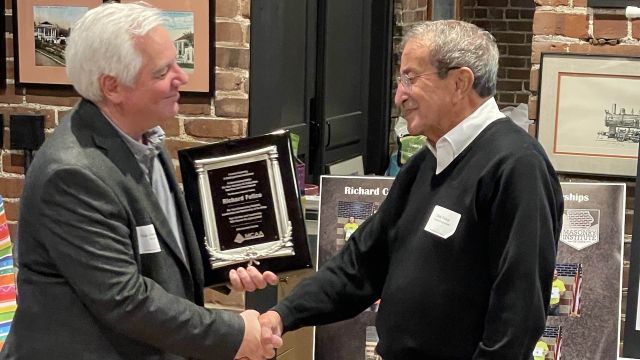 March 28, 2022 8:55 AM CDT
Richard "Dick" Felice Honored By The Masonry Institute of Iowa
On Tuesday March 22, 2022, the Masonry Institute of Iowa honored member Richard "Dick" Felice on his retirement. They renamed their pre-apprentice scholarship after Dick, now known as the "Richard C Felice BAC3 IA Pre-Apprentice Scholarship." MII's Foundation awards the pre-apprentices a scholarship during their coursework. Dick Felice was honored for his 62 years of service to the masonry industry. He was one of the founding fathers of the Masonry Institute of Iowa, back to 1978 when it was incorporated, according to Jenny Irlmeier, MII Executive Director.
Mr. Felice has been very active with the Mason Contractors Association of America as well. He has been a mentor to so many mason contractors throughout the years, and has served in the leadership of the organization. He was Chairman of the MCAA from 1990-1992. Mr. Felice is arguably one of the most well-respected contractors in our industry and has built a long history of top-notch quality for a fair price. The MCAA also honored Mr. Felice that evening, and presented him a plaque honoring his retirement.
---
About the Author
Jeff Buczkiewicz is the President and CEO of the Mason Contractors Association of America. Jeff has worked in the masonry industry for several years as the Executive Vice President of the Building Stone Institute and the Director of Marketing and Membership for the Mason Contractors Association of America. Jeff has also served as Secretary on the Board of the Natural Stone Council and is a former Board Member of the StonExpo Federation.
Related Articles