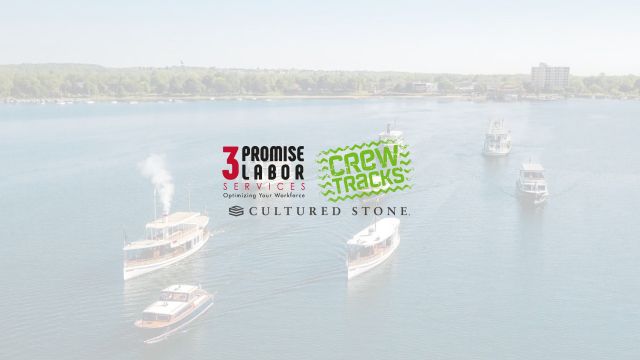 March 7, 2022 9:42 AM CST
NEW EVENT For The 2022 Midyear Meeting: Sunset Dinner Cruise
3 Promise Labor Services, CrewTracks, And Cultured Stone Will Sponsor The August 16 Event
By Dan Kamys
CLICK HERE TO LEARN MORE ABOUT THE MCAA MIDYEAR MEETING IN LAKE GENEVA, WI FROM AUGUST 14-18
MCAA Note: We expect to open registration for the MCAA Midyear Meeting within the next few weeks, and will announce it prominently through MCAA and MASONRY channels. It is important to try and register as soon as possible, as space is limited at the Grand Geneva. Unlike last year in Memphis, satellite hotels will all require a short drive to the meetings and bookings will likely be handled directly with those properties.
We are thrilled to announce a new, included event for all attendees of the 2022 MCAA Midyear Meeting that will allow us all to enjoy Lake Geneva. On the evening of Tuesday, August 16th, our new Sunset Dinner Cruise will push off from the dock for a two-hour trip around the lake.
The cruise will go from 6:00PM - 8:00PM with a bus pickup at the Grand Geneva Resort & Spa around 5:30 PM. 
Special thanks to Sunset Dinner Cruise sponsors 3 Promise Labor Services, CrewTracks, and Cultured Stone for their help in making this event possible. 
---
About the Author
Dan Kamys is the Editorial Director of MASONRY Publications.
Related Articles