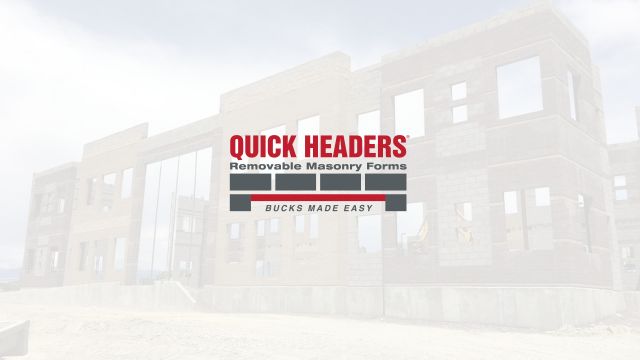 November 11, 2021 10:06 AM CST
Quick Headers Joins The MCAA's Corporate Partner Program
By Dan Kamys
The Mason Contractors Association of America is excited to announce that Quick Headers, the developer of a temporary, removable beam support used when setting brick and block over a window or door opening, has joined the Corporate Partner Program. Quick Headers is now a part of the MCAA's industry-wide promotional program for masonry suppliers.

"Our team has really enjoyed working with Scot and Judy from Quick Headers over the past few years. They have continued to build on their involvement with the Association, and this next step in their growth is exciting for all of us," said Jeff Buczkiewicz, MCAA President and CEO.

Quick Headers products are much simpler to use than traditional wood-frame or other support methods. Professionally engineered and structurally sound, they are designed specifically for the masonry industry. Quick Headers are quick and easy to install and remove (under a minute) by the mason. No more costly wood framing or work stoppages to bring in a wood buck framer. Just install, level and continue setting block. Once the concrete has cured, the simple removal of a Quick Header support beam leaves clean, true openings for any down line trades. A green, environmentally sensitive building method. Bucks of Steel Made Easy.

"MCAA has provided valuable access and insight into the masonry industry across the entire country for us, and we genuinely enjoy the personal, one on one interactions at all MCAA regional events" said Scot Kelly, Quick Headers President.
"The relationships established have been key to the growth and success of Quick Headers and we genuinely feel like part of an esteemed family," adds Judy Kelly, Quick Headers Vice President. "We look forward to our continued growth with MCAA!"

In addition to becoming the newest Corporate Partner, Quick Headers will be undertaking a comprehensive, multi-channel media effort through MASONRY Magazine and affiliated media channels.

About Quick Headers: Quick Headers specializes in an innovative masonry shoring support beam that will substantially increase job productivity, efficiencies and profitability when setting concrete masonry blocks or bricks over openings. Environmentally sensitive, these patented, removeable and reusable masonry steel beams eliminates traditional wood bucks.

Quick Headers range in sizes from 2' to 16' in length, with a post needed every 6'. The Quick Connect effortlessly links Quick Headers together to cross over virtually any length. Post shores can reach 3' to 39' in height.

Quick Headers established the first rental operation in Utah in 2015 and has converted nearly every mason across the state with a 100% retention rate making them the best bucking thing you have ever seen!

Find out more at www.quickheaders.com

About Mason Contractors Association of America: The Mason Contractors Association of America (MCAA) is the national trade association representing mason contractors. The MCAA is committed to preserving and promoting the masonry industry by providing continuing education, advocating fair codes and standards, fostering a safe work environment, recruiting future manpower and marketing the benefits of masonry materials.

About MASONRY Media: Since 1961, MASONRY has served as the premier resource for mason contractors to stay up to date on news, technology and advocacy within the industry. The magazine has evolved into a modern, multi-channel information source and advocate within the industry.
---
About the Author
Dan Kamys is the Editorial Director of MASONRY Publications.
Related Articles