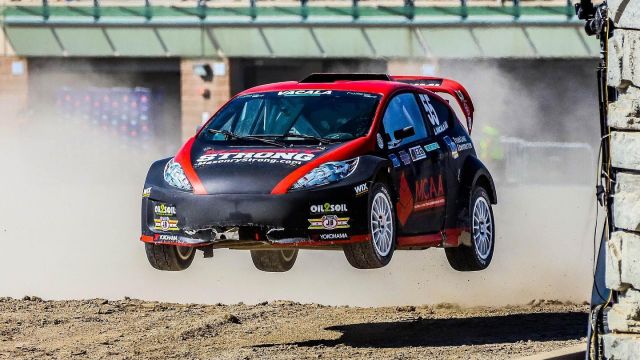 October 5, 2021 8:00 AM CDT
Lane Vacala And The MASONRY STRONG Car Take 3rd In Minnesota Nitro Rallycross Event
The Race Is The Second Of Five For The 2021 Nitro RX Season
By Dan Kamys
The 2021 Nitro Rallycross Racing Series continued this past weekend with a race at the ERX Motor Park in Elk River, Minnesota. The car, driven by Lane Vacala, who is a former member of the masonry industry, had a strong showing and finished in third place.
The car made headlines on Instagram over the weekend on Travis Pastrana's Instagram page by nearly going end-over-end during one of the jumps. As of this writing, the short clip had amassed just under 900,000 views.
Brian Carney, Vice President of SPEC MIX, an MCAA Strategic Partner and fellow sponsor of the MASONRY STRONG car, was in attendance for the race. The MCAA and SPEC MIX are joined by other industry sponsors: CrewTracks, EZG Manufacturing, and Masonry Cosmetics.
The next races are scheduled for:
November 13-14: Wild Horse Pass Motorsports Park, Chandler, AZ
November 20-21: Glen Helen Raceway, San Bernardino, CA
December 4-5: Florida International Rally & Motorsport Park, Starke, FL



The MASONRY STRONG CAR is looking to bring attention to workforce development efforts and appealing to younger people as a recruitment tool. If you are interested in sponsoring the car, please reach out to Jeff at the MCAA office for more information. Call 800.536.2225 or email jeffb@masoncontractors.org.
---
About the Author
Dan Kamys is the Editorial Director of MASONRY Publications.
Related Articles