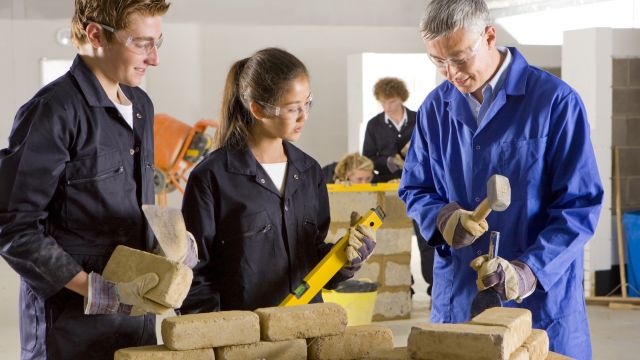 January 26, 2021 8:00 AM CST
Masonry Instructor Resources Hub
Note: To access the resources talked about in this article, please visit masoncontractors.org and hover over the Education tab in our navigation bar.  
It's 2021, and with so many important educational opportunities transitioning to the digital space, it's crucial that masonry instructors remember the MCAA Masonry Instructor Resources Hub when it comes to planning and executing lesson plans. With traditional classroom and hands-on, in-person instruction nearly impossible for some, proper education is still achievable with proper social distancing in an outdoor setting. 
During these cold winter months, masonry instructors can focus on using the most up-to-date resources available to mold the perfect lesson plans for students. Many masonry instructors are surprised to learn that there are dozens of incredibly helpful resources available and all are included with MCAA membership. Here are just some of the many informative information sources available to all MCAA members who are or are interested in developing as an industry instructor. 
2020 Virtual Masonry Instructor Conference Presentations: 
In the summer of 2020, the MCAA conducted a series of workshops called the Virtual Masonry Instructor Conference. These digital presentations were recorded and are available on-demand for masonry instructors of all levels. There is a wide variety of subjects and coursework available. Through this intensive and informative content in an easy-to-understand format, participants can learn how to establish, market, and execute successful masonry instruction programs. With a pressing lack of new masons in a demanding construction market, it is imperative that young masonry students receive as many educational opportunities as possible, and courses like these help make this possible. Listed below are the available courses for masonry instructors:
Confidence In The Classroom

E-Learning Opportunities

Why Mental Health Is Smart Business

Cutting Edge Technology

Instructor Licensing

Making The Case: A Masonry Career 

Securing Materials For Your Program
Masonry Instructor Discount Programs
Did you know that the MCAA has made a wide variety of financial discounts available to masonry instructors through the Masonry Instructor Discount Program? Backed by several MCAA Strategic Partners, options include the following: 
Bon Tool Co. Instructor Support 

Keson/SOLA MCAA Instructor Program

Marshalltown Tools For Schools Program

Mortar Net Solutions Teacher Pack

SPEC MIX Masonry Sales Manager Contact List

Kapro Tools Teacher Price List
Through these programs, masonry instructors can save when purchasing tools and materials for themselves or for students including trowels, levels, and more. Tools in particular can sometimes be a large barrier standing in the way of an eager student, and these financial discount options can open the door for a willing student to start tackling the masonry trade. In addition, Mortar Net Solutions also offers the Mortar Net Scholarship program. In 2020, this program provided 20 masonry students with a complete tool kit and stipend. 
As we encourage more and more young people to consider a career in masonry, it is essential to offer whatever assistance we, as an industry, can to help make it easier for students to enter the trade. 
Projects
Whether starting a masonry apprenticeship program from scratch or working to improve an existing program, student project plans are an essential part of success masonry education. The MCAA Masonry Instructor Resource Hub has a variety of masonry student project plans that range from relatively simple to more complex contest-winning projects. As a masonry instructor always looking for new ways to engage students, the projects can help to jumpstart ideas for more creative projects or can serve as excellent ways to work with both beginners and more advanced student levels. Check out the list of excellent project schematics here: 
Mike Campanile Pizza Oven Project

Mike Campanile Pizza Oven Photo 1

Mike Campanile Pizza Oven Photo 2

North Carolina State Fair Project 2019

North Carolina State Fair Project 2019 2

Sam McGee 2019 Contest

Sam McGee 2020 Contest
Webinars
MCAA On Demand Webinars 
There are literally hundreds of MCAA Webinars available on demand. Topics include Bidding Practices, Codes & Standards, Ethics & Business Practices, Masonry Products, Quality Assurance Best Practices, Safety, and General Education. There is something for everyone to choose from, and all are available free of charge to masonry instructor MCAA members. As these on demand webinars were previously broadcast live and recorded, they include Q&A sessions between participants and instructors which contain invaluable information on the subject at hand and greatly enhance the educational experience. 
MCAA Live Webinars 
In addition to the large selection of Webinars On Demand, the MCAA also maintains a rigorous schedule of upcoming live events, many of which are completely free to MCAA members. Masonry instructors looking to stay up-to-date on the latest industry information can find MCAA Live Webinars that cover a variety of relevant topics and provide useful information that can in turn be used in future masonry classes. As the industry and technology continue to develop and evolve, MCAA Live Webinars will continue to be a useful resource for masonry instructors across the United States. 
Organization Links
The MCAA Instructor Resource Hub does not just provide a large collection of downloadable, clickable, and viewable resources. For masonry instructors looking to network and connect with other instructors across the country, the Hub has links to several other associations including the National Center for Construction Education and Research (NCCER), North Carolina Mason Contractors Association (NCMCA), and the National Masonry Instructors Association (NMIA). Any and all of these resources will provide masonry instructors with the additional information and support needed to become successful masonry educators. 
Videos:
No masonry instructor's toolbox is complete without some educational videos! The MCAA Masonry Instructor Resource Hub hosts several videos that will be very beneficial in an educational setting, including a series of Masonry Competition Videos and the informative Top 10 Reasons to Join the Masonry Team. These resources are an excellent way for masonry instructors to perform outreach activities with potential masonry students and engage new masons through exciting and demonstrative content. There's no better way to reach a young mason than through a video of other masons their age doing what masons do best, and this content is especially useful for career development days or other exciting school events. 
Masonry instructors have a vital role to play in the masonry industry. Bypassing on their experience and knowledge to young masons, masonry instructors are the lifeblood of the industry and help to ensure the next generation is prepared for what lies ahead. To better equip masonry educators, the MCAA has complied and made a plethora of resources available for on-demand access. There's no better way to serve the masonry community and especially masonry students than delivering the most engaging, up to date information possible, so be sure to visit the Mason Instructor Resource Hub and start learning! 
---
About the Author
Related Articles