September 7, 2012 7:00 AM CDT
BIA honors the best in brick design
2012 National Brick in Architecture Award winners span eight categories in 28 States
The Brick Industry Association (BIA) has honored outstanding design incorporating genuine clay brick for both aesthetics and sustainability. Offering architects an increasingly wide palette of colors, textures and shapes for exterior and interior expression, the 2012 Brick in Architecture Award winning projects span 28 states and include commercial, educational, health care, houses of worship, municipal/government, paving and landscape architecture, multifamily and single family residential.

"As a versatile building material made in America made from abundant natural resources, there is no substitute for genuine clay brick," said BIA President and CEO Gregg Borchelt, P.E. "Unlike manufactured masonry products, brick fired from genuine clay offers permanent, through-body color, proven performance and natural beauty that imitation products just can't match," he said.

In addition to competitive benefits over other exteriors, brick offers great freedom to match the architect's imagination and desires as well as an essential element of sustainable design. Atlantic Wharf, Boston, Mass., the Best in Class commercial category winner, used a combination of existing and new brick types for both the residences and offices. The 1,200,000 s.f. mixed-use complex is also Boston's first LEED Certified Platinum high-rise.

"Integrating old and new brick was important to maintain the historic character of the area," said Associate Principal Philip Casey, AIA, LEED AP, CBT Architects, Boston. "A lot of effort went into matching mortar to maintain the historic context," he said. "Brick was also an integral part of our objective to achieve LEED Platinum in the Building Reuse category."

The North Carolina State University chancellor's residence, named The Point, won Best in Class in the residential single family category. The 5,400-s.f. residence (comprising 3,100 s.f. of living quarters) was designed by North Carolina Statue University led by Marvin Malecha, FAIA, dean of the NC State University College of Design and president of the American Institute of Architects (AIA). Genuine clay brick was part of the sustainable materials selected, including solar panels and geothermal heating and cooling.

Malecha said that the residence was designed to represent NC State and North Carolina as a "mini stimulus" to help boost the state's jobs and materials. "We wanted it to not only be beautiful and adaptable to the ways it will be used, but also be built using sustainable practices," said Malecha in an NC State article.

The 2012 Best in Class winners include:


Commercial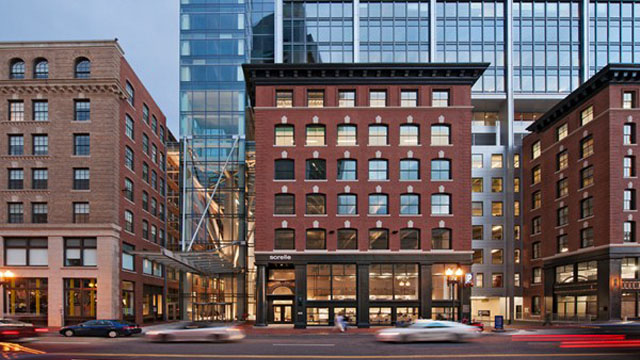 Atlantic Wharf
Boston, Massachusetts
Architect
CBT Architects
AssociateArchitect
Building Conservation Associates
Builder
John Moriarty & Associates
Mason Contractor
A. Jandris & Sons, Inc.
Owner
Boston Properties, Inc.
New Brick Wall Contractor
Phoenix Bay State Construction
Restoration Contractor
Grande Masonry
Education
The Ogden International School of Chicago
Chicago, Illinois
Architect
Nagle Hartray Architecture
Landscape Architect
Terry Guen Design Associates
Associate Architect
Schroeder Murchie Niemiec Gazda-Auskalnis Architects, Ltd.
Builder
Turner Construction Company
Mason Contractor
Illinois Masonry Corporation
Structural Engineer
Matrix Engineering Corporation
Client
Public Building Commission of Chicago on behalf of Chicago Public Schools
Health Care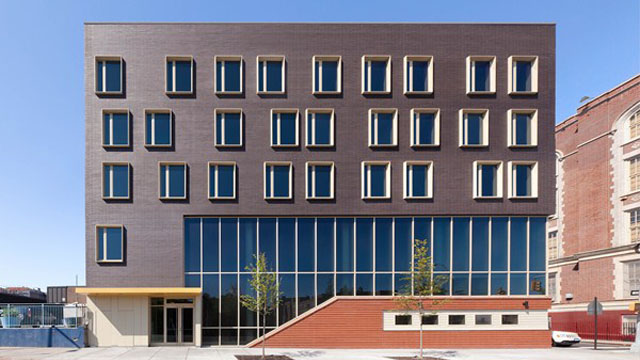 VIP Community Services, Men's Residences
New York, New York
Architect
WASA/Studio A
Landscape Architect
WASA/Studio A
Mason Contractor
Procida Construction
Houses of Worship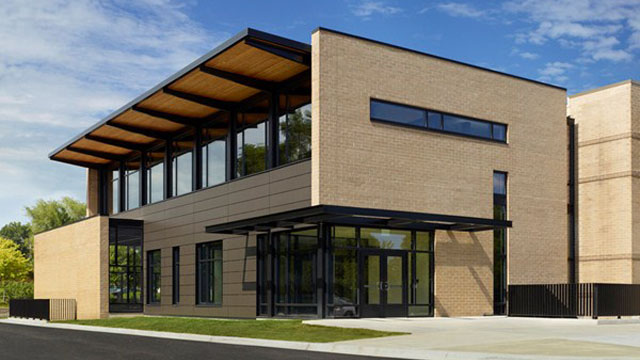 Chapel and Administrative Wing, DuPage A.M.E.
Lisle, Illinois
Architect
Harding Partners
Builder
Moreton Construction
Manufacturer
Hanson Brick
Mason Contractor
J and E Duff
Municipal/Government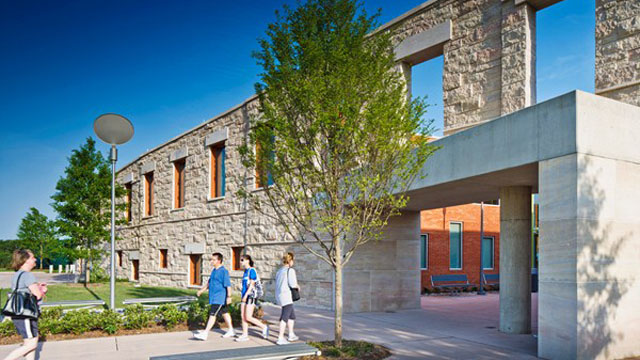 Wylie Civic Complex
Wylie, Texas
Architect
Holzman Moss Bottino Architecture, with Architexas
Mason Contractor
DMG Masonry Limited
Paving & Landscape Architecture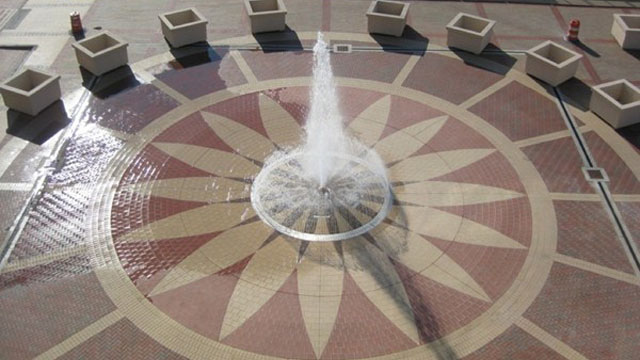 Carmel City Center
Carmel, Indiana
Architect
Pedcor Design Group, LLC
Builder
Smock Fansler Corporation
Manufacturer
The Belden Brick Company
Distributor
Indiana Brick Corporation
Mason Contractor
Smock Fansler Corporation
Developer
Pedcor City Development Company
Construction Manager
Signature Construction
Structural Engineer
McComas Engineering, Inc.
Civil Engineer
Kimbley & Proctor, Inc.
Residential - Multi-Family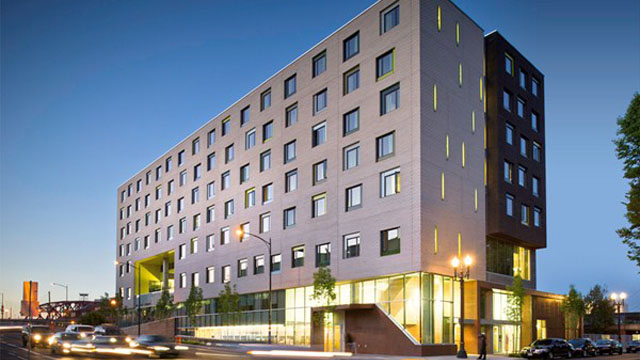 Bud Clark Commons
Portland, Oregon
Architect
Holst Architecture
Mason Contractor
J&S Masonry
General Contractor
Walsh Construction
Client
Home Forward
Residential – Single Family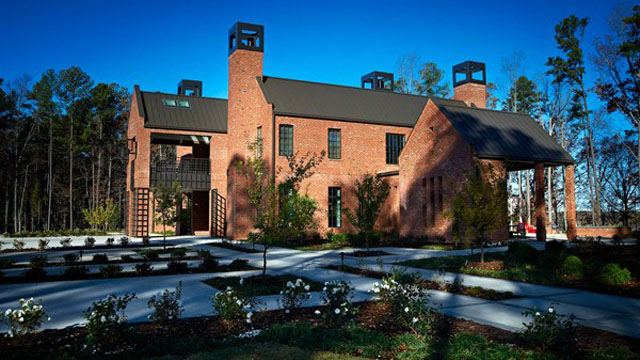 The Point | NC State University Chancellor's Residence
Raleigh, North Carolina
Architect
North Carolina State University
Landscape Architect
Office of the University Architect
Associate Architect
Weinstein Friedlein Architects
Builder
Rufty Homes
Manufacturer
Triangle Brick Company
Mason Contractor
Capitol City Masonry
BIA's annual awards program started in 1989 and includes entries throughout North America. This year's judges include Steven Ansel, the S/L/A/M Collaborative, Gastronbury, Ct.; Jack LaQuatra, CLARB, ALSA, LaQuatra Bonci Associates, Pittsburgh, Pa.; Nicholas Papaefthimiou, ZGF Architects, LLP, Washington, D.C. and Sean Stadler, AIA, LEED AP, WDG Architecture, Washington, D.C. Offering a 100-year lifespan as compared to vinyl siding with a 25- to 50-year life span, genuine clay brick exteriors also offer low- to no maintenance, superior performance in extreme weather conditions, moisture resistance, durability, a minimum one-hour fire rating, seismic strength, termite resistance, thermal mass and natural beauty. Brick homes also use one to two percent less energy than vinyl-clad homes.
The complete list of winners including the Gold, Silver and Bronze winners is available at
www.gobrick.com
.
---
About the Author
Lorelei Harloe is the Principal at Ascend Communication, LLC.
Related Articles