Green Building System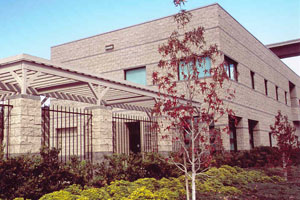 "Green" is a term we have become increasingly familiar with over the years. The idea of "green" has taken many forms, all sharing the ultimate goal of preserving and protecting our environment now and for future generations. Today, it is an advancing principle in construction with qualifying buildings even being certified as green by meeting specified criteria. But, what is a "green building"? How does a green building become LEED® certified? And, finally, what makes masonry an exceptional green building material?
According to the U.S. Green Building Council (USGBC), a green building is one that utilizes design and construction practices that significantly reduce or eliminate the negative impact of buildings on the environment and the building's occupants. Special attention is given to 1) site planning, 2) water conservation and efficiency, 3) energy efficiency, 4) materials and resources utilization, and 5) indoor environmental quality. Green buildings not only provide environmental benefits, but they offer the big picture payback:
Health and Safety - occupants' comfort and health is increased resulting in improved patient conditions, higher levels of satisfaction and better productivity from employees, better performance from students, and surges in retail sales.

Community - environmental consciousness is raised, and local infrastructures realize less landfill activity, less drain on water supplies, and fewer transportation issues (whether it be transport of people or materials) resulting in a better quality of life.

Economic - use of local resources supports local economies, building operation costs are improved, and favorable zoning ordinances, tax incentives, as well as credits and rebates from energy suppliers boost the bottom line.
Green buildings can seek recognized, third party certification from Leadership in Energy and Environmental Design (LEED®). LEED® is a voluntary, consensus-based national standard for developing high-performance, sustainable buildings. LEED® was created by members of the USGBC to:
Define "green" by establishing a universal standard of measurement,
Promote whole-building, integrated design principles to be used as guidelines,
Acknowledge environmental leaders in the built community,
Stimulate green competition,
Establish market value with a recognizable "brand,"
Elevate consumer awareness of the availability and benefits of building green, and
Produce positive returns for the environment, its inhabitants, and the economy.
The program provides a checklist of mandatory prerequisites, then awards voluntary credits based on the level of achievement in six basic categories: sustainable sites, water efficiency, energy and atmosphere, materials and resources, indoor environmental quality, and innovation and design process. The voluntary credits ultimately add up to a final score of points, which can earn the building one of four possible levels of certification starting with Certified and advancing to Silver, Gold, or Platinum. A minimum of 26 points is needed for LEED® certification, and a maximum of 69 points is available from all six categories.
Masonry can help a building meet LEED® certification requirements because of its many unique "green" attributes, several of which mirror the basic LEED® program categories and include indoor environmental/air quality, daylighting, local material supply, heating and cooling features, and its renewable resource status. But, masonry goes beyond the basics by aptly addressing such bonus or "incentive" features as acoustic performance, increased fire safety, and the lowest life cycle costs. Masonry can satisfy the complete program.
A building's indoor environment is its habitable space - the space its occupants spend the most time in. Therefore, its impact is great on their overall comfort and well being no matter what the building's utility...be it a school, medical facility, retail center, church, or corporate headquarters. Masonry materials hold a quiet, inherent strength: they are "clean."
"The ingredients of masonry and mortar are inert, non-toxic, and promote excellent indoor air quality," states the Portland Cement Association. Masonry's natural textures and colors also eliminate the need for painting, drywall, or other finishes that could result in undesirable chemicals in the air. The reduced potential for mold growth (masonry does not provide a food source, does not rot, and can be easily cleaned) also supports indoor air quality.

Daylighting, outdoor views, and masonry's flexibility to comply with such demands also make it a natural choice for any project. Since walls are constructed on site, design considerations are easily accommodated. And, occupants reap the benefits: employees' health and productivity are enhanced by better work spaces, chemically sensitive patients are inhaling clean air, shoppers are staying longer and buying more, and children are learning and playing carefree.

Local material supplies are satisfied on the LEED® checklist because masonry products are commonly extracted from and manufactured within the building site region supporting the local economy, minimizing fuel requirements for handling and transport, and reducing traffic congestion and resultant emissions. Local material use also helps to keep building costs down.

Masonry's thermal mass characteristics provide optimal heating and cooling efficiency. Masonry walls remain warm or cool long after the heat or air-conditioner has shut off. This attribute not only reduces heating and cooling loads but stabilizes indoor temperature shifts and exchanges typical peak heating and cooling loads to off-peak hours. Daylighting also comes into play with energy conservation as natural light can reduce the need for artificial lighting fixtures and the energy needed to run them. Masonry's color and texture options can also create reflective surfaces which lend themselves to further energy efficiency and reduced building operation costs.

Masonry is renewable and reusable. Rock and sand are in no short supply and are easily accessible, thus renewable. A building's life speaks to its reusability. The goal being to extend its usable existence. Masonry is a durable material whose life cycle exceeds that of many other building envelope products. It is resistant to fire, water, and insects. As a result, it presents the opportunity to refurbish an existing building's structure and shell as opposed to tearing down and starting anew. And, once again, cost savings are realized due to masonry's resiliency and low maintenance nature.
Masonry is beautiful, durable, adaptable, and "green." Masonry can meet the bottom line by enhancing environmental and social responsibility, enriching the lives of building occupants and communities, and improving life cycle costs with demonstrated long-term savings. The path to masonry is the path to the complete building system.