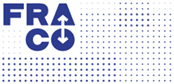 Fraco USA, Inc.
91 Chemin des Patriotes
St. Mathias-Sur-Richelien, QC J3L6B6
Canada
P: 450-658-0094
F: 450-658-8905

Fraco is a Canadian manufacturer of mast guided access equipment. Its range of products includes work platforms, construction elevators, industrial lifts, material only hoists and transport platforms.
National Associate
Products Offered by Fraco USA, Inc.
Where Fraco USA, Inc. Sells Products
• Alabama
• Alaska
• Arizona
• Arkansas
• California
• Colorado
• Connecticut
• Delaware
• District of Columbia
• Florida
• Georgia
• Hawaii
• Idaho
• Illinois
• Indiana
• Iowa
• Kansas
• Kentucky
• Louisiana
• Maine
• Maryland
• Massachusetts
• Michigan
• Minnesota
• Mississippi
• Missouri
• Montana
• Nebraska
• Nevada
• New Hampshire
• New Jersey
• New Mexico
• New York
• North Carolina
• North Dakota
• Ohio
• Oklahoma
• Oregon
• Pennsylvania
• Rhode Island
• South Carolina
• South Dakota
• Tennessee
• Texas
• Utah
• Vermont
• Virginia
• Washington
• West Virginia
• Wisconsin
• Wyoming
Affiliations

Find a Supplier