September 28, 2006 8:54 AM CDT
Natural Stone & Building Industry Uses
By Ron Willis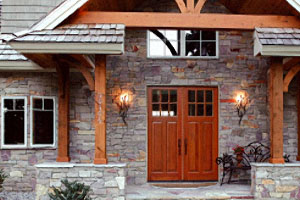 There are many types of natural stone that the construction building industry uses.
There are many types of natural stone that the construction building industry uses.
It's important for masons and mason contractors to be knowledgeable about each stone that they work with and understand how each type was formed, what types of minerals and natural elements are present behind the rough exterior, each one's characteristics, and how each might be used to its best advantage in building construction.
While obviously space prohibits us from discussing all the various individual types of natural stone available, here are three of the main subsurface natural stones used in the U.S. building industry:
Granite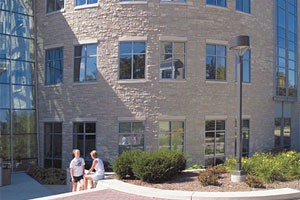 Granite is used especially for building and for monuments.
Granite is a very hard natural igneous rock formation of visibly crystalline texture, formed essentially of quartz and orthoclase or microcline, and used especially for building and for monuments. It is made up mostly from a mixture of quartz, feldspar and mica. Granite has large crystals that can be seen very easily - the black specks in the material are crystals of mica.
The word "igneous" is from the Latin word ignis and means fire. Igneous rocks were formed from magma or lava. Magma is molten (i.e., melted) rock under the earth's surface. At the point when magma reaches the surface, it is called lava.
When the magma comes out of the earth's crust through a volcano as lava and is exposed to the surface elements, it cools and hardens, producing the more porous and less dense stones, such as pumice. This type of igneous stone is called "extrusive."
If the magma cools and hardens inside the earth, it is called "intrusive" rock. This rock cools slowly and has large crystals. When the magma does not reach the earth's surface, it is formed into a variety of geological structures. This intrusive type of stone is what is typically used as building stone. It is quarried from beneath the earth's surface and it comes in a variety of types, such as granite, basalt and obsidian.
Limestone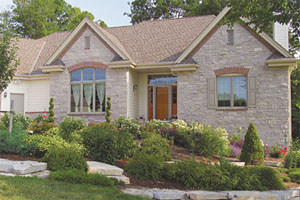 Limestone has long been known to be one of the best, high-quality building materials available for use today.
Limestone is a rock that is formed chiefly by accumulation of organic remains (e.g., shells or coral) and consists mainly of calcium carbonate. It is extensively used in buildings throughout the United States.
Limestone is a very strong and durable material when used in the construction of buildings. It is especially popular in architecture, and many landmarks around the world, especially in North America and Europe, are made primarily of the material. Limestone is readily available and relatively easy to cut into blocks or more elaborate carving. It is also long lasting and stands up well to exposure.
Limestone was most popular in the late 19th and early 20th centuries - train stations, banks and other structures from that era are often limestone. It is used as a facade on some skyscrapers, but only as thin cladding rather than solid structural blocks.
Also, although limestone is readily available and quarried in the United States, other varieties are often imported from both Europe and Asia.
Limestone has long been known to be one of the best, high-quality building materials available for use today.
Marble
Marble is limestone that is more or less crystallized through metamorphism, with the crystals ranging from granular to compact in texture. Marble is extensively used for sculpture, as a building material and in many other applications.
Marble is a metamorphic rock that, at some point, has undergone a metamorphism from limestone, composed mostly of calcite (a crystalline form of calcium carbonate, CaCO3). The word "marble" is often colloquially used to refer to many other stones that are capable of taking a high polish.
Marble is a very strong building material and can be polished to a beautiful luster. Marble has a very appealing finish when polished, and is found in many different sparkling colors such as white, pink, gray, red, yellow or black.
Spain is one of the largest producers of high-quality marble. It is imported to the United States for all types of building projects, and it is a very good building material.
---
About the Author
Ron Willis is owner of Masonry Estimating and Consulting Services (MEACS). A veteran masonry estimator, he has been in the masonry business for more than 40 years. He can be reached at 817-822-8595 or ron@meacs.com.
Photos courtesy of Buechel Stone Corp.
Related Articles