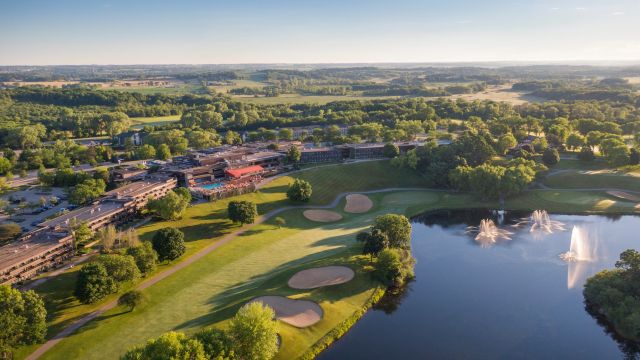 February 7, 2022 3:00 PM CST
2022 MCAA Midyear Meeting: August 14-18 In Lake Geneva, WI
The Grand Geneva Resort & Spa Will Host The Masonry Industry
MCAA Note: We anticipate registration for the 2022 Midyear Meeting to open shortly at midyear.masoncontractors.org. Speed Dating availability will open up first to MCAA Strategic Partners, then MCAA Corporate Partners, then MCAA Supplier Members shortly after the conclusion of our Annual Online Auction in the middle of February, which is earlier than we had planned. Nominations for the 2022 MCAA Masonry Hall of Fame should open on March 1st.
We're thrilled to announce that the 2022 MCAA Midyear Meeting will take place from August 14th through August 18th, 2022 at the historic Grand Geneva Resort & Spa in Lake Geneva, Wisconsin. The location is easily accessible via two major hubs, Chicago O'Hare International Airport (ORD) and General Mitchell International Airport (MKE), with an approximate one-hour travel time to the resort.
The MCAA is excited to host our meeting in this space, which features over 1,300 acres of scenic land. The Grand Geneva is home to two championship golf courses that are recognized as being among the best in the Midwest.
The Midyear Meeting will kick off with our Opening Dinner and Reception on Sunday evening, and will be set in one of the beautiful outdoor spaces. On Monday, we will have our Committee Chair Meeting in the morning followed by Board Meeting for The Masonry Foundation.
Monday afternoon, attendees will be able to participate in the MCAA MAC PEC Golf Tournament at one of the Grand Geneva's golf courses, The Brute. The Tournament will kick off with a shotgun start at 1:30 PM. Monday evening is free, and you might want to take a look into a dusk hot air balloon ride. Those are available through Lake Geneva Balloon Company and set off every day at sunrise and sunset.
Not a golfer? There is a lot to do that afternoon in Lake Geneva. Nearly every watersport you can think of is available, including: water skiing, pontoon and sport boat rentals, fishing opportunities through licensed fishing guides, or even tours of the lake featuring lunch. If land is more your speed, there are bike rentals available downtown and a 21-mile hiking path surrounding the lake. The path is most accessible by the Library, and all residents who live along the lake are required by law to keep a 20-foot public access way on their property.
If you would prefer, there are several orchards within a short drive which should allow us to enjoy the peak of apple season. The downtown shopping district is a big part of what makes Lake Geneva famous, so make sure you take a look around, especially since it's only about five minutes from the resort.
Tuesday brings back the MCAA favorite, Speed Dating. Grand Geneva is a perfect venue for this event, as we have lined up a section of the resort that will keep all of our participating companies and contractors in the same area. As always, Speed Dating participants should stick around for lunch, as cash and prizes will be won by all. Tuesday afternoon and evening are free, but look for several optional events to be announced by the MCAA in the near future.
Wednesday morning will feature the Board Meeting and Contractor Round Table Discussions. Our final afternoon will be free; in the evening, we will host our annual Hall Of Fame Award Ceremony and Closing Dinner.
Thursday, there will likely be one last optional morning golf outing for folks who would like to play the other course at the resort.
We look forward to seeing you in Wisconsin, and be sure to look out for full program details ahead in the coming weeks!
---
About the Author
Jeff Buczkiewicz is the President and CEO of the Mason Contractors Association of America. Jeff has worked in the masonry industry for several years as the Executive Vice President of the Building Stone Institute and the Director of Marketing and Membership for the Mason Contractors Association of America. Jeff has also served as Secretary on the Board of the Natural Stone Council and is a former Board Member of the StonExpo Federation.
Related Articles