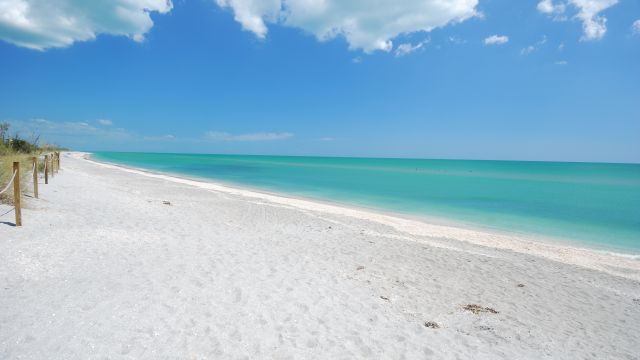 December 21, 2020 8:00 AM CST
An Invitation To The Annual Meeting From MCAA President and CEO Jeff Buczkiewicz
The Masonry Industry Is Invited To Enjoy A Unique Meeting Opportunity
CLICK HERE TO REGISTER FOR THE MCAA ANNUAL MEETING IN CAPTIVA, FLORIDA (now includes Foreman Development Course and Hotel registration)
First and foremost, I want to wish you and yours a very Merry Christmas and a much better New Year ahead. 
I also wanted to take a moment to invite you to join us for the MCAA Annual Meeting in Captiva, FL Feb. 7 - 10. We have had a unique opportunity to offer our annual meeting this coming year outside of Las Vegas due to the postponement of World of Concrete. We do still plan to participate in WOC in June, but we will have a limited program. 

THE SOUTH SEAS ISLAND RESORT
I have had the pleasure of just returning from a quick trip to Captiva to put the final touches on our planning for our meeting. I have to tell you we are in for a real treat. The resort is gorgeous and it is surrounded by water. The resort is situated at the North end of Captiva Island and is the last property on the North side before you end up in the Gulf of Mexico. The resort has 3 miles of private beach and has a gated entrance. I say that because as we still will be in the COVID days, this resort is a bit unique as it is a little more secluded than other properties where we have stayed. They are situated in Florida, which has been a little less restrictive with COVID. That being said, the resort follows all CDC recommendations for meetings and we can expect similar mitigation efforts to what we saw in French Lick for our Midyear Meeting. 
It is a true getaway experience. The resort also has plenty of watersports and activities, including: sailing, deep-sea fishing, jet skiing, yoga on the beach and just about any other activity you can dream of. If the water doesn't do it for you, the resort has a Par 3 golf course which runs on the exterior of the property (so every hole has water views). Golf on the property has no green fees, they are included in your stay. We are planning an off-property golf outing on a sister course on adjacent Sanibel Island. So you can golf every day if you like on Captiva, the only fee you would pay would be rental fees for clubs (unless you bring yours with you) and a cart fee. You won't be disappointed. If you like sunrises and sunsets, this is the place to be, both are absolutely gorgeous (more on this in a minute). 

NEW FOREMAN DEVELOPMENT COURSE
The MCAA is rolling out a brand new Foreman Development Course. We are very excited about this new program. It has been developed by four of our members over the past 10 months. We want to thank Tom Vacala, Jameel Ervin and Donnie Williams for putting the time and effort to make this one of the best programs we have likely ever offered. The great thing is, all three will be there in Captiva to co-teach the class on Sunday February 7. It is an 8-hour course, and the class will not end in Captiva. 
Students will learn more about the continuing activities for foremen we have planned for all who attend, including meeting regularly with their fellow participants via video calls to continue their further development throughout the year. In addition, webinars will be set-up to help further their development as foreman for years to come. A Foreman 2 course is in the initial planning stages for the more seasoned foremen and those who complete Foreman 1. It is expected to roll out in 2022, The Foreman course is for all levels of foremen including those who may be future foremen for your company. 

ANNUAL MEETING SCHEDULE
Sunday morning will also be the kick-off golf outing. It will begin at 9:30am with a shot gun start on Sanibel.  
Sunday evening's dinner will be held on Sunset Beach (all outdoors). We know it also happens to be that big football game day as well, and plan to have an inflatable screen on the beach which will keep everyone up to speed on the game. Before the game begins, we will have the awesome pleasure of enjoying the sunset as a group. The evening will be a great way to begin our week of meetings and events. 

Monday morning we will have our meetings (Foundation Meeting, Board Meeting, and Contractor Roundtable), and will be held in the Gulf side tent on Sunset Beach. We will make sure to have the doors wide open so we can hear the water in the background. The deck outside the tent will make for nice breaks. Monday night will be an open evening. There are restaurant options on the resort and plenty of smaller restaurants just outside the resort if you would like to take in the local fare. 

Tuesday morning will be the first time we have another new event called MASONRY STRONG LIVE. We will be taping 10-minute educational presentations made by suppliers who will be demonstrating products for our attendees. It will be a bit unique as we will have seating and a small stage set in the King's Crown lawn with the Gulf as the backdrop. In addition to the 10 minute segments, we will also have some short and unique tips of the trade being presented between segments. All planned breaks will be held outside on the lawn as well. The event will be broadcast later on all MCAA social media platforms. Be a part of this very exciting new event. 

That evening, we will have our Closing dinner in the Sunset Pavillion/Tent, which will serve as another fantastic opportunity to take in the unique sunsets of Captiva. Wednesday will be completely left open for any activities you choose to do on your own. Of course, if you prefer to head home you are more than welcome to depart. 

The best airpot to fly into to get to Captiva is Ft. Myers airport. Captiva is about an hour ride from the airport. I will leave you on this note. On my trip to Captiva, I had the pleasure to bring my family with. My son, who is at the wonderful age of 16 said something I have never heard him say before as we pulled out of the resort. He said "I am going to miss this place."  The resort is a great place to get away from everything and for us people from the North, a great place to enjoy warm winter weather. It is family friendly, so feel free to bring them along. I know I will be and the great thing is most kids won't have to miss one day of school, if they are doing their school via Zoom. 
I look forward to seeing you in Captiva.
---
About the Author
Jeff Buczkiewicz is the President and CEO of the Mason Contractors Association of America. Jeff has worked in the masonry industry for several years as the Executive Vice President of the Building Stone Institute and the Director of Marketing and Membership for the Mason Contractors Association of America. Jeff has also served as Secretary on the Board of the Natural Stone Council and is a former Board Member of the StonExpo Federation.
Related Articles