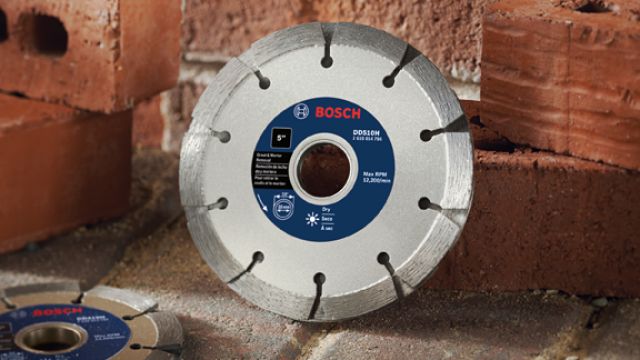 May 28, 2013 7:00 AM CDT
The best blade for the job
Saw blades
Saw blade technology continues to provide end-users with the utmost in cost-effective use, efficiency and a long life of the blade. Not only are the blades boasting best-in-class design, but also companies are becoming more consumer oriented than ever – particularly regarding packaging. No more confusion when selecting the appropriate blade for the material at hand. Labeling is clear and concise, with some packaging concepts using an image of the material (bricks, concrete, etc.) right on the packaging and on the blade itself. Masonry has gathered a sampling of some of the latest and greatest saw blades available for the choosing. No matter your need, there's a blade for your job.


Sandwich Tuckpointing Diamond Blade
Bosch
Mount Prospect, Ill.
Every brick or stone building in North America will meet the tuckpointer at some point to cut, clean and repair old mortar. Deteriorating mortar leads to water seepage, which can ruin the structural integrity of a building. This critical application demands high-quality, long-lasting diamond tuckpointing blades that can withstand a harsh environment. By combining tall segments and a superior diamond/metal mix with an efficient and fast sandwich blade design, Bosch has created long-lasting tuckpointing blades that are designed to grind more surface area than competitive blades. The addition of 4.5-inch and 5-inch diameter sandwich blades gives the company a broad offering for use in hand-held grinders. The eight-segment blades are made exclusively for dry tuckpointing applications. Blade widths are 6.35 mm (¼ inch) with cutting depths ranging from .75 inch for 4.5-inch blades to 1.25 inch for 5-inch blades. Typical applications for tuckpointing blades include mortar removal in brick buildings and grout removal in commercial tile applications. Bosch combines copper, iron, nickel and cobalt hard-bond metal powders with high-grade diamonds to create hardened 10-mm segments. These blades have high-diamond content to cut mortar efficiently and ample keyhole gullets to remove discarded cement and other debris.
www.boschtools.com
Precision Framing Blade
DEWALT
Baltimore, Md.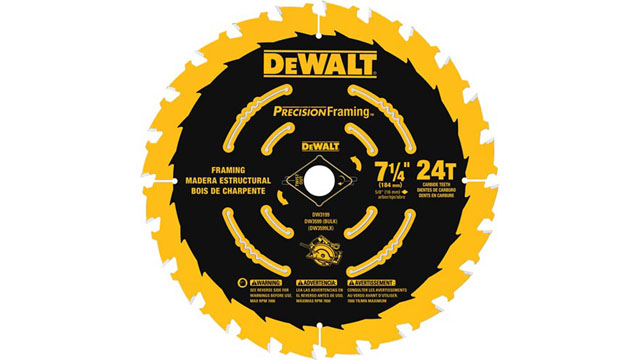 It's time to start cutting fast and easy with the new Precision Framing blade from DEWALT. Offering break through performance, it's a leading new addition to the DEWALT line of Precision saw blades. Through exclusive plate technology, the Precision Framing Blade sets a new standard for professional performance. Dewalt's new exclusive plate technology with resin filled expansion slots dampen vibration, improve the cutting feel of the blade and increase it's overall performance compared to Freud's Diablo D0724R in a double stack of ¾-inch chip board material. The precision face grind produces extremely smooth cuts, requiring less force to get the job done. The blade has an anti-kickback reinforced shoulder design for impact resistance. The Precision Framing Blade is made of a new proprietary carbide which helps to extend the life of the blade by over TWO TIMES versus DEWALT's standard cutting blades. And it performs with greater ease, requiring only HALF the cutting force over DEWALT standard blades. TWO TIMES the life at only HALF the cutting force! The Precision Framing Blade is exclusively from DEWALT and is guaranteed tough.
www.dewalt.com
Super and Universal Premium Diamond Blades
Hilti Inc.
Tulsa, Okla.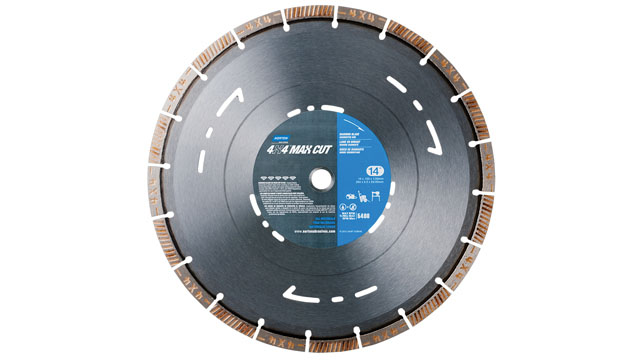 The Hilti Super Premium (SP) and Universal Premium (UP) Diamond Blades take performance to the next level for all kinds of cutting applications in a variety of base materials. The Super Premium Blades feature Equidist technology. With Equidist, all diamonds in each segment are spaced accurately at regular intervals. This not only ensures consistent high cutting performance over the entire life of the blade, but also makes the blade more suitable for universal use. SP Diamond Blades deliver exceptional performance in concrete, concrete block, brick and natural stone. They also provide up to 50 percent faster cutting speeds and up to 50 percent longer life than comparative super premium blades. The Universal Premium (UP) Blades are top value standard blades for cutting a variety of base materials such as concrete, masonry and asphalt. The Universal Premium (UP) Blades provide maximum versatility while delivering a high balance of speed and life. Specifically designed for use with all Hilti hand-held diamond cutting tools including angle grinders, electric cutters and gas saws these blades give the user high productivity in most general purpose concrete and masonry applications.
www.us.hilti.com
BB5 Brickbreaker Blade
Husqvarna
Olathe, Kan.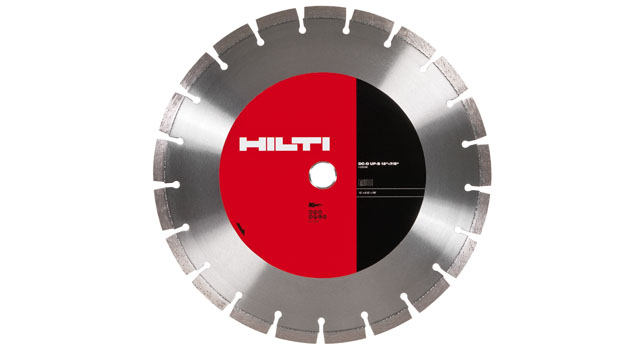 Husqvarna offers masonry blades the industry has trusted for more than 50 years. The commitment to quality and performance can be seen in every blade, and the Husqvarna BB5 Brickbreaker is no exception. The BB5 Brickbreaker is a general purpose blade that is made to cut medium to hard bricks on the first pass. It works best while cutting concrete pavers and is available in both a 14-inch and 20-inch size. The blades have a total segment height of .400 inch (.300-inch diamond depth and .100-inch segment base). Husqvarna masonry blades are exactly what users need for a job well done.
www.husqvarna.com
Ultimate Orange Silent Paver Blade
iQ Power Tools
Moreno Valley, Calif.
iQ Power Tools' newest diamond blade in its iQ Ultimate Line is the 14-Inch Ultimate Orange Silent Paver blade. This blade provides super-fast cutting and long life on concrete pavers and hard brick products. Designed specifically with the iQ 360, iQ 1000 and iQ 2000 in mind, the blade is made with "Speedcore Technology." When tested, the 14-Inch Ultimate Orange Silent Blade cut thru a 9-inch X 80-mm paver in 9.3 seconds on the Q360. It's made with a copper core, so you can cut indoors with no dust and no noise when used with our iQ360 dustless masonry saw.
www.iqpowertools.com
MK-742D Dry Cutting Diamond Blade
MK Diamond Products Inc.
Torrence, Calif.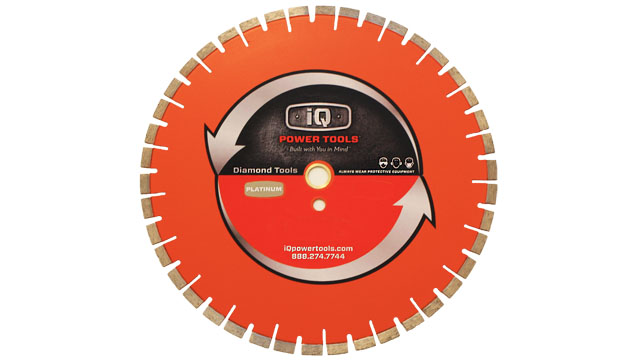 MK Diamond Products' MK-742D dry cutting diamond blade is a high-speed blade that has been engineered using an arrayed pattern of diamonds. The diamonds are effectively aligned so that each diamond is working in unison for maximum abrasion and material removal. The arrayed pattern allows all the diamonds to work in unison, increasing cutting efficiency by 65 percent over conventional blades. The MK-742DSL Silent Core also uses the arrayed diamond pattern, but with the benefit of a Sandwich Core. The Sandwich Core is manufactured with two steel cores laminated with a copper center that provides the greatest sound reduction. This is beneficial on jobsites, where controlling the cutting noise level is an issue near schools, hospitals or residential areas. In addition, a quieter blade reduces the chance of hearing loss for an operator. The silent core also reduces vibration, which is beneficial to the operator's safety and adds longevity to the blade life. Both blades contain only the highest quality synthetic diamonds and have a 10-mm segment height. The wide gullet design provides exceptional cooling. The blades are available in 14-inch diameters.
www.mkdiamond.com
4X4 Diamond Blade
Norton
Worchester, Mass.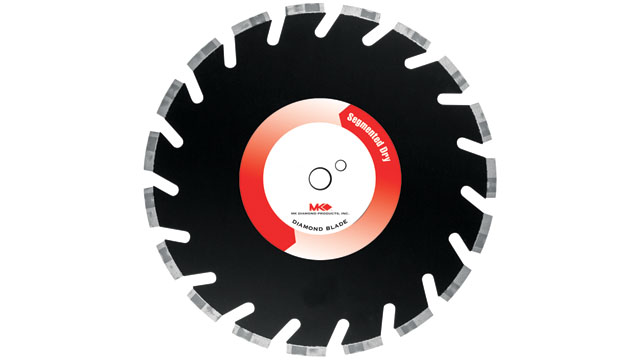 Labor is the largest cost for any contractor. Contractors need to find ways to reduce time on the job, if they want to stay competitive. That means better product solutions from manufacturers that provide real value for the application. Two new multi-purpose diamond blades from Norton, the Norton 4X4 and 4X4 Max Cut, are ideal solutions to save time and money. The Norton 4X4 has a specially tensioned core that resists overheating and cracking. The Norton 4X4 Max Cut takes it up a notch with a segment design process for better bond-to-diamond adhesion. Marrying this process to the general 4X4 characteristics provides a faster "cut-all" blade to last longer on a wide range of materials, with a single blade that keeps cutting time after time. Norton products are fast enough to get you on and off the job, and tough enough to last.
www.saint-gobain.com
SB80 Diamond Wheel - Premium Grade
STIHL
Virginia Beach, Va.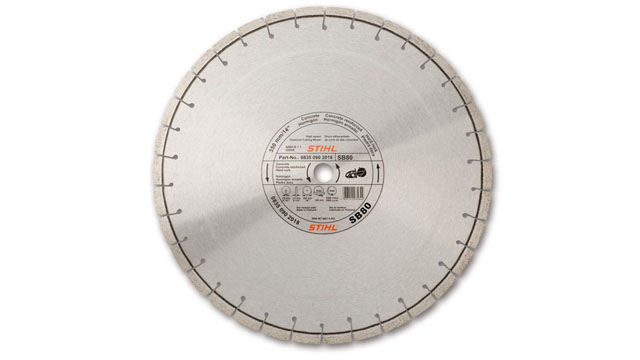 The STIHL SB 80 is a premium diamond wheel that has earned its reputation for its high cutting speed in a variety of materials and extremely long lifetime. Masons and hardscapers have come to appreciate the smooth cut that minimizes chipping of pavers and bricks when cutting them. In a competitive environment where you rely on your tools for your livelihood, the STIHL SB 80 is a dependable wheel that can stand up to a wide range of tough cutting conditions. The STIHL SB 80 wheel features premium diamonds, giving it exceptional performance in everything from block, brick and concrete to ductile iron and structural steel up to 10 mm thick. The STIHL SB 80 diamond wheel is available with a 20-mm arbor in 12-, 14-, and 16-inch diameters. The patented, high-density sintering process used to create the diamond segments applies heat and pressure from both sides to create a dense, uniform bond matrix, which creates better segment cooling and a longer wheel life.
www.stihlusa.com
Originally published in Masonry magazine.
---
About the Author
Jennifer Morrell was the editor of Masonry magazine. She has 20 years of experience in the publishing industry as a writer and editor, covering such topics as real estate and construction, insurance, health care, relationships and sports. A graduate of The University of Georgia's Grady College of Journalism, she earned a Bachelor of Arts degree in magazines and is an award-winning newspaper columnist.
Related Articles