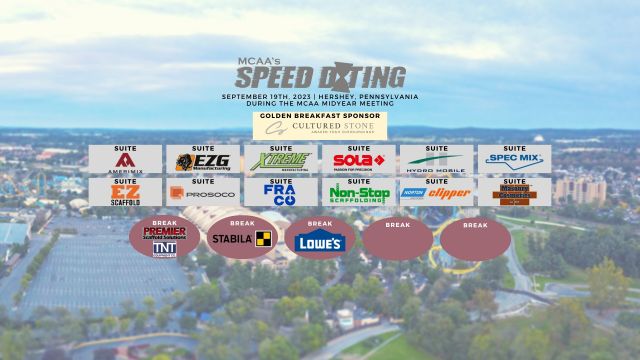 February 15, 2023 7:00 AM CST
Live Updates: 2023 Hands-On Speed Dating Availability
Event Occurs During MCAA Midyear Meeting In Hershey, Pennsylvania From Sep. 17-21
By Dan Kamys
The 2023 MCAA Midyear Meeting is scheduled for September 17-21 in Hershey, Pennsylvania at the historic Hotel Hershey. While we are still ironing out the details and full schedule, we are shortly going to make Hands-On Speed Dating Spots available to supplier companies. Availability is open to MCAA Strategic Partners as of February 13th. On Wednesday February 15th at 12:00 AM Central, availability will open to MCAA Corporate Partners. On Friday February 17th at 12:00 AM Central, availability will open to MCAA Supplier Members. 
Our live updates are below: 
2/13/23 8:05 AM: Suite availability updated to reflect initial Strategic Partner reservations. 
2/14/23 10:30 AM: Suite availability updated to reflect Norton Clipper reservation.
2/15/23 7:00 AM: Suite availability updated to reflect Masonry Cosmetics reservation. Suite availability has sold out, Golden Breakfast Sponsorship and Break Zones remain.
2/17/23 2:00 PM: Availability updated to reflect Cultured Stone reservation as Golden Breakfast Sponsor. Break Zones are available.
2/17/23 4:30 PM: Availability updated to reflect Premier Scaffold Solutions, STABILA, and Lowe's Break Zone reservations.
Speed Dating "Suites" (SOLD OUT)
Golden Breakfast Sponsorship (SOLD OUT)
Break Zones (5 Available, $4,500 each)
This year's opportunities are:
GOLDEN BREAKFAST SPONSORSHIP (1 Available, SOLD OUT, $7,000): There will be one Golden Breakfast Sponsorship available. As part of this sponsorship, the presenting company will be able to deliver a presentation during the breakfast portion of the event.
SPEED DATING "SUITES" (12 Available SOLD OUT, $7,000 each): Get the opportunity to have contractors get "hands on" with your equipment. Provide our members an educational opportunity unlike any other in 20-minute sessions. 

NEW! SPEED DATING BREAK ZONE (5 Available, 2 Available $4,500 each): These are unique spaces in the communal area that will allow supplier companies to interact with contractors during two planned breaks. Marketing material may be brought in as part of the Speed Dating Break Zone Sponsorship.
Reservations per rollout group(s) are on a first-come, first-served basis. In all cases, a verbal/email commitment is all that secures the space for the time being. A 50%, non-refundable deposit will be due by May 1st, and full payment will be due by August 1st. We anticipate getting the website for our Midyear Meeting up within the next few weeks. 
Please note: Once Speed Dating early-access windows have expired, availability is handled via a waitlist. Waitlist is comprised of all interested companies sorted by the date and time they asked to be added to the waitlist.
---
About the Author
Dan Kamys is the Editorial Director of MASONRY Publications.
Related Articles