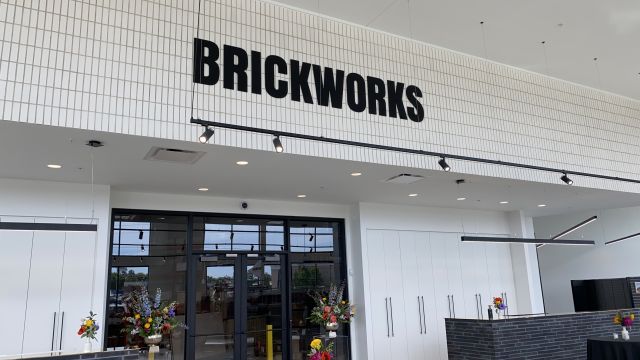 June 21, 2021 8:00 AM CDT
Elevating The Brick Experience: Brickworks Launches Experiential Design Center
By Dan Kamys
Louis Vuitton and Ferrari aren't necessarily brands you would associate with masonry products, particularly brick. Mark Ellenor, President of Australia-based Brickworks, the new parent company of Glen-Gery Corporation, aims to change that.
Case in point is the new 25,000-square-foot masonry design and supply center in the Greater Des Moines area. Radically different from many traditional masonry supply centers, this facility is aimed to bring masonry industry stakeholders together in a modern and inviting space. It makes the process experiential and educational.
The new design center includes over 1,000 brick samples physically in the space, along with a classroom that can serve as a hub for architects, homeowners, and contractors to continue their education.
"Too often when people think of brick, they visualize a traditional, red clay building material. Brickworks is determined to challenge that dated vision. Through our premium brands like Glen-Gery, we're expanding design possibilities, leveraging greater creativity, ingenuity and imagination to promote innovative ways to build with brick. Available in a variety of colors, textures, sizes and shapes, brick can be used to create endless design stories, from traditional to contemporary designs. We're thrilled to debut the Des Moines Supply Center as it brings us one step closer to achieving this goal. We've created a modern, yet accessible, space where our knowledgeable team is available to offer advice, review plans and walk customers through the product selection process to help make their design visions come to life. Taking it one step further, we've designed the space to make it easy for architects, contractors, masons and other industry professionals to select and purchase everything they need for their projects all in one place, including masonry products, tools, accessories and gear," says Mark Ellenor, President of Building Products at Brickworks.
With over 150 years of combined experience now channeled into the new company through the acquisitions of Sioux City Brick and Redland Brick, the Brickworks and Glen-Gery teams are convinced they can go out to market with products and help equip architects and designers to use and install masonry products in projects.
The Mason Contractors Association of America had the opportunity to attend the Grand Opening of the center in late May, and sends a sincere thank-you to the Brickworks Glen-Gery team for the hospitality. We all look forward to working together in further expanding masonry wall share.
---
About the Author
Dan Kamys is the Editorial Director of MASONRY Publications.
Related Articles