March 15, 2007 7:30 AM CDT
2007 Fastest Trowel on the Block Competition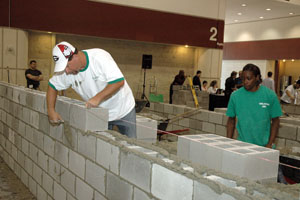 Ray Robinson, 2007 Fastest Trowel on the Block Competition winner.
Masons and their tenders were highlighted at Masonry Showcase's premier event in Orlando, Florida on February 24, 2007. The annual Fastest Trowel on the Block contest drew an audience of hundreds to the exhibit floor to catch the action and see who would win the $7,000 grand prize. Contestants came from across the country to compete against each other to build the biggest and best block wall.

The Fastest Trowel showcases the skill of the industry's masons and how important teamwork is in accomplishing a final product. The competition pitted the masons against one another in a show of both speed and craftsmanship. Each contestant's goal is to complete as much of an 18-block-long wall as possible. With the 20-minute time limit that is placed on the contestants, they must make split-second decisions based on the judging criteria. Only those masons who have the skill, confidence and courage to face off with the industry's best are invited to compete.

The contest was as exciting as ever, as all the masons worked quickly and with great quality. The audience picked their favorites and cheered them on through the twenty minute competition. After the judges did their scoring, the results were announced.

The top-placing contestants in this year's competition were:


First Place
Ray Robinson
J.A.M. Construction, Inc.
Gainesville, FL
Second Place
Mike Canez III
Triple M Masonry, Inc.
Phoenix, AZ
Third Place
Gonzalo Lopez
Fyffe Masonry & Plastering, Inc.
Glendale, AZ
Winners received trophies, plus first place took home $7,000, second place $2,500 and $1,000 to third place.
The Mason Contractors Association of America would like to thank contest sponsor, The QUIKRETE Companies, which also provided the mortar and labor for the contest.
---
About the Author
The Mason Contractors Association of America (MCAA) is the national trade association representing mason contractors. The MCAA is committed to preserving and promoting the masonry industry by providing continuing education, advocating fair codes and standards, fostering a safe work environment, recruiting future manpower, and marketing the benefits of masonry materials.
Related Articles