June 16, 2006 6:35 AM CDT
Painter Receives ASTM Award of Merit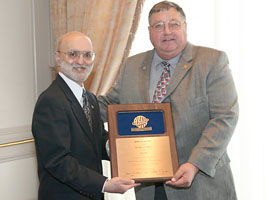 MCAA's Jerry Painter, F.ASTM, receives the ASTM Award of Merit from ASTM Chairman of the Board, Anthony Fiorato.
The American Society for Testing and Materials honored ASTM Technical Committee Chairman, Mr. Jerry Painter, F.ASTM, on June 13, 2006 with the ASTM Award of Merit for Committee C15 on Manufactured Masonry Units. Jerry joins an exclusive group of only 23 Award of Merit winners in the history of the C15 Committee.
The Award of Merit was established in 1949 by the ASTM International Board of Directors and is the highest society award granted to an individual member for distinguished service and outstanding participation in ASTM International committee activities. Recipients also receive the honorary title of Fellow.
Jerry was selected to receive this award due to his unusually productive service in ASTM committee work over the years. His practical knowledge and experiences as a mason contractor have contributed extensively to the development of better ASTM Standards on masonry materials, testing and construction. His leadership is displayed daily on Committee C15 as an executive committee member and Subcommittee chairman on Masonry Assemblies. He has worked tirelessly on a Standard Practice for Unit Masonry Workmanship for over a decade and continues to work towards its successful development.
---
About the Author
Rashod R. Johnson, P.E., is president of The Roderick Group in Chicago. He is the former Director of Engineering for the Mason Contractors Association of America and currently serves as a technical consultant to the association.
Related Articles